Doctor Browns pub avoids 'women singing rock'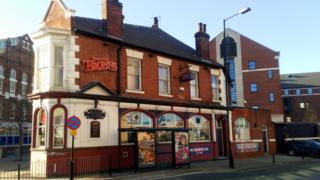 A pub landlady says she is reluctant to book rock bands with female singers because punters do not like them.
Doctor Browns in Middlesbrough had been accused of having a ban on female-fronted groups.
Paula Rees said there was no absolute rule, but her regular customers "do not think females can sing in a rock band" and said it was a business decision.
"They're saying they won't come in if there is a female trying to sing rock," she said.
"If I don't have my regulars I don't have a pub to open."
The row started when a female singer with a local band had a booking at the pub cancelled, the Northern Echo reported.
Landlady Ms Rees said she had taken advice from some regular customers who were "not impressed" by the lead singer.
But a different female-fronted band was booked in next year, she said.
North East rock singer Lorraine Crosby, who sang on Meat Loaf's hit I'd Do Anything For Love, thinks "men prefer blokes singing rock".
Being a good rock singer requires "having balls" and a "big sounding voice", she said.
"Sometimes girls can sound a bit reedy and thin and squeaky," she said.
Though to say all women were no good was "a bit stereotyped", she added.
Ms Rees admits she is "not a rock lover", preferring Ska, which she hopes to have more of at the pub in the future.