Middlesbrough Council headquarters 'not fit for purpose'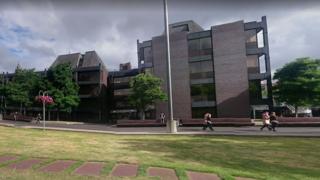 Council bosses in Middlesbrough want to move out of the authority's 50-year-old civic centre because it is "no longer fit for purpose".
The concrete building in the town's Centre Square dates back to the 1960s.
The authority claims it needs major improvements estimated at £6.5m, with maintenance costs expected to rise to more than £20m.
It said a new hub costing £16m would provide long-term savings and create a better environment for its 600 staff.
A spokesman said the concrete structure of the current building had a limited lifespan and would probably reach the end of its "usable life" within the next few years, necessitating significant works.
"For some years, the centre has not been fit for purpose. While refurbishment has to be considered as an option, the clear advice is that this is not a cost-effective solution in the long term.
"It therefore makes sense that we explore the development of a new civic centre which will reflect the size and flexibility of the council's current and future workforce, and one that will make a lasting contribution to the life of the town."
The council, which is looking to make budget savings of £56m over the next three years, is due to consider the plans at a meeting on 19 December.