Cleveland police hurt when car 'rammed' by suspects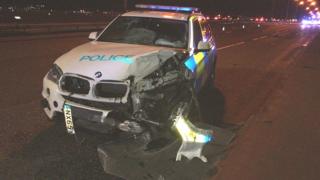 Two Cleveland police officers were hurt when their car was rammed by robbery suspects.
The car was hit while it was pursuing two men in a car on an A19 flyover on Friday night.
The police car then hit a barrier, leaving both officers seriously injured. The force thanked drivers who stopped to help the injured officers.
Two men were later arrested in Parkend, Middlesbrough. They are in custody being questioned.