'Little-used' Teesside Airport Station loses platform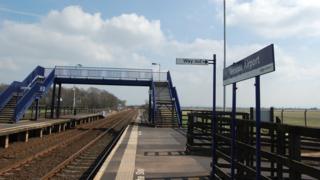 A platform and the footbridge at one of the least-used stations in the UK are to be removed.
Teesside Airport Station, a kilometre from Durham Tees Valley Airport, was used by only 98 passengers in the past year, and 32 in the previous one.
It is served by a weekly train in each direction between Hartlepool and Darlington, which Northern Rail has now said will only run one way.
It will stop at the airport-side platform, with the other side removed.
The move has been agreed by the airport, which said in a statement: "The existing airport rail halt, located a kilometre from the terminal building, is used by few people with its location unsuitable for airport passengers and for those in surrounding housing or businesses.
"The costs of maintaining the current infrastructure are estimated to be as high as £6m over the next five years… expenditure which is not in line with our business goals."
Northern Rail said: "Currently the station's usage is the fourth lowest nationally - last year saw only 98 people through the facility.
"The year before the number was 32, officially the nation's lowest, [and] the increase was solely due to a visit made by enthusiasts to the station last autumn."