Former lorry driver Reginald Wood jailed for rape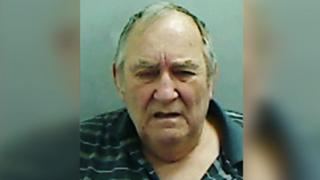 A "sick and depraved" former lorry driver who sexually abused young girls has been jailed for 17 years.
Reginald Wood, of Staintondale Avenue, Redcar, carried out some of the assaults in the cab of his vehicle, Teesside Crown Court heard.
The 82-year-old pleaded guilty to 23 charges including rape, sexual assault and indecent assault.
The attacks took place during the 1980s and 1990s, with the youngest victim aged seven.
'Little secret'
Giving evidence, one of those abused by Wood said: "He was evil and spiteful and made me feel worthless.
"I have flashbacks of physical and mental torment.
"I will never forget the lasting damage this child abuser did to me."
Judge Tony Woods praised the three victims - two of whom were raped by Wood - for coming forward to report the abuse.
The court heard they had been vulnerable young children who were warned by Wood would not be believed if they revealed their "little secret".