One tonne metal buoy stolen from Hartlepool estate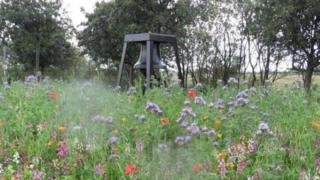 A one tonne bell buoy installed 15 years ago to celebrate a town's maritime history has been stolen.
The buoy, which is made of gunmetal and was about 5ft (1.5m) high, was stolen sometime on the night of 20 January from Central Estate in Hartlepool.
Hartlepool Borough Council called the theft "despicable".
A large vehicle was used to drag the buoy from the corner of Cleveland Road and West View Road into a field, smashing a fence in the process.
Dave Hunter from the council said: "This is a despicable theft - the buoy has stood there for years as an unusual, eye-catching landmark and a proud echo of Hartlepool's shipbuilding heritage."
The buoy was one of several artworks installed 15 years ago on the Central Estate.
Cleveland Police are investigating.