Drug claims at 'zero tolerance' Stockton hostel New Walk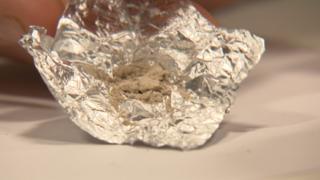 Vulnerable people at a hostel which claims to have a "zero tolerance" policy to drugs are being exposed to heroin, a BBC investigation has found.
New Walk in Stockton houses drug addicts, the homeless and people recently released from jail.
Ex-residents said "drugs are everywhere" and prostitutes paid for drugs with sex onsite.
New Walk said it was fulfilling its contract with the council and staff seized drugs when they were found.
One former resident told the BBC's Inside Out programme: "From day one, it was unreal. After two weeks I was injecting heroin.
"I overdosed three times while staying there. Drugs are everywhere at the hostel."
'Busy drugs market'
A sex worker with a heroin addiction claimed prostitutes take men back to the hostel in Hartington Road and pay for drugs with sex.
Within minutes of arriving on the street for the first time, a former undercover police officer helping the BBC was able to buy a £10 wrap of heroin from a nearby property.
At least two of the people involved in the deal were New Walk residents.
The former policeman said: "It is clearly quite a busy drugs market. Various people are buying and selling drugs."
Accommodation at the hostel, which has about 100 rooms, costs approximately £260 per week.
'Chaotic'
Over the last two years, New Walk has received £2.3m in enhanced housing benefit payments from the government.
Stockton Council has paid New Walk £54,000 since last summer through its housing-related support service to provide accommodation for 25 vulnerable people.
A New Walk spokesman said: "We are not paid to provide what may be called clinical or care services but work closely with agencies that do provide these public health-commissioned services.
"The challenge of providing and maintaining supported accommodation for complex/chaotic service users is highly demanding.
"In the last year we have carried out 60 drug-related life-saving interventions around Hartington Road and moved 52 service users from the scheme into long-term settled accommodation."
The council said it "recognises there are problems in central Stockton" with "hotspots for crime and anti-social behaviour" but added it "cannot compel new or existing providers to set up in different locations".
You can see more on this story on Inside Out in the North East and Cumbria on BBC One at 19:30 GMT.