Woman saved from car fire after Middlesbrough house crash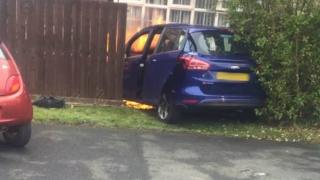 A driver was rescued from a burning car after it ploughed into the side of a house.
Great-grandmother Ursula Scott, 75, accidentally hit the accelerator instead of the brake, sending her crashing through a fence and into the home in Middlesbrough.
Passer-by Faisal Ali, 32, pulled her from the car as flames erupted.
Mrs Scott, who escaped uninjured, told the Gazette she feared she "was a goner".
Mr Faisal said the rescue on Cambridge Road took about 10 minutes.
He told BBC Tees: "It all happened so quick.
"I'm just glad she's fine, I managed to save her life.
"I did panic slightly, it was quite hot, I was burning, my only aim was to get Ursula out of the car as quick and as safe as possible."
Mrs Scott said she been one her way to a meeting for visually impaired people.
She told the Gazette she normally takes a partially-sighted friend to the meeting, but the other woman was not in the car at the time.
Mrs Scott said she did not intend to renew her driving licence after the accident.
She said: "I feared the worst - I thought I was a goner. I'm so grateful."