Facebook racist jailed over shoot Muslims posts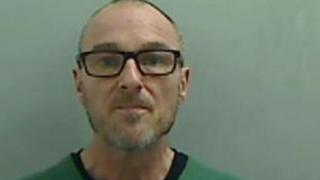 A man who posted Facebook messages calling for Muslims to be shot in the wake of terror attacks has been jailed.
Drunken Andrew Littlefair, 50, of Norton, also posted "vile" messages urging the burning of mosques in 2017.
Appearing at Teesside Crown Court, he admitted six counts of publishing material intending to stir up racial hatred and was jailed for 20 months.
The judge said the posts went to the "very heart of our democracy".
During his four-hour social media rant on 4 June, Littlefair called Islam a "disgusting disease" and wrote mosques should be burned down and Muslims "wiped out."
'Mumbling nonsense'
The father-of-one published a post on the morning after the London Bridge terror attack which included "give me bullets for my gun".
He also said: "My granddad didn't fight and die for this" and another post read: "Go to the extreme and kill them all. Fire with fire."
When a woman complained about the messages Littlefair did not remove the posts, so she called police.
Teesside Crown Court heard he later posted on another account "apologising" for being a "white Christian who has values for life".
Robert Mochrie, defending, described Littlefair as a "keyboard warrior" and said: "He doesn't have the intelligence frankly to be able to express himself in a more careful way."
He said the posts were "nothing more than utter stupidity, mumbling nonsense".
Judge Simon Bourne-Arton QC said: "They went to the very heart of our democracy.
"It was a time for people to be calm in the truest traditions of this country, it did not require people like you to stir up racial hatred."