Snow baby: Mother gives birth at the side of busy A66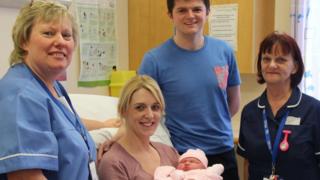 A baby girl was born at the roadside as snow hampered her parents' efforts to get to hospital.
Andrew Waring was driving wife Daniella to hospital in "adverse" conditions on the A66 near Darlington when the couple realised they would not arrive in time.
Mr Waring said he "copied" what he had seen at the birth of his first two children and "knelt in the snow to deliver the baby."
Baby Sienna and her mum were "happy and warm" when paramedics arrived.
The couple set off from their home in Catterick, North Yorkshire, when Mrs Waring went into labour.
Mr Waring said: "The weather was very bad and I struggled to find somewhere to pull over and barely had time to ring 999 when the baby started coming.
"Having been present at the birth of our two other children I just copied what I had seen then.
"I opened the passenger door and knelt in the snow to deliver the baby."
Paramedics arrived and transferred Mrs Waring to hospital, after driving up and down the road several times to find her.
In a tweet, the service dubbed the little girl "#A66snowbaby".
A Great North Air Ambulance crew was patrolling in a Land Rover, as the weather meant the helicopter was unable to fly,
Lee Salmon, from the charity, said: "Initially there was a bit of confusion as to where they were, so we drove up and down looking for the car, and eventually found it in the snow by the side of the road.
"Mum and dad had done really well, had done all the hard work, so we were just there to take the glory of it, as it were."
He added: "A lot of the time the work we do is difficult work, on the edge, so it's also nice to be involved in something that's really quite delightful."
Baby Sienna is being monitored at Darlington Memorial Hospital.
Ward sister Anne Hodgson said the main priority was to warm up both mother and baby.
She added: "We have no cause for concern and they're both doing really well despite their experience."