Redcar beach ancient woodland uncovered by weather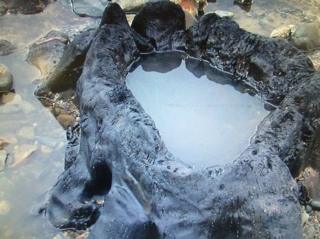 The remains of an ancient woodland lost to the sea at the end of the last ice age has unexpectedly reappeared on coast of north-east England.
Tonnes of sand has washed away from Redcar beach during recent storms, revealing the petrified remains.
The rare sight has attracted hundreds of visitors.
Geologist Mark Stokeld said the forest was about 10,000 years old and would once have been "flourishing" with animal and bird life.
"I can imagine how this was before the ice had finally disappeared," he said.