Noel Edmonds apologises for 'negative attitude' cancer comment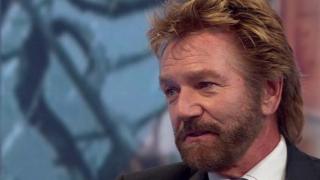 TV presenter Noel Edmonds has issued an apology to a man he suggested may have developed cancer because of his "negative attitude".
Vaun Norman, from Ingleby Barwick, Teesside said the suggestion had "riled" him.
Edmonds defended his comments, made in June 2016, during the BBC's Victoria Derbyshire Show on Tuesday.
However, he has now sent a statement to local radio station BBC Tees apologising for "any upset caused".
Edmonds made the original comment in a Twitter exchange with Mr Norman.
Mr Norman had questioned Edmonds' claim that a device using electromagnetic fields could treat various illnesses.
Edmonds tweeted in reply: "Scientific fact - disease is caused by negative energy. Is it possible your ill health is caused by your negative attitude?"
'Dismissing people's lives'
When challenged by Derbyshire he said it had been a "perfectly reasonable question to ask somebody".
In the later statement, he said his question had been "well meant and intended to stimulate his curiosity".
"Possibly now is the time to close this chapter by me again offering Vaughan [sic] a sincere apology for any upset caused, wishing him a positive outcome from his treatment," Edmonds said.
"In return, he may be gracious enough to withdraw his accusation that I'm in some way profiting from cancer."
Speaking for the first time about the Twitter exchange, Mr Norman said Edmonds had been "dismissing people's lives, you're dismissing people who are struggling",
He said he had only survived cancer "through huge amounts of effort by very well trained, very experienced medical people and my own hard work - it is hard work having cancer".