Darlington bus crash death driver Michael Gilbert pleads guilty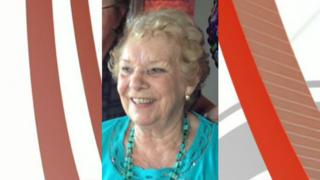 A bus driver who killed a woman when his single-decker hit her has admitted causing death by careless driving.
A jury was instructed to clear Michael Gilbert, 53, of the more serious charge of causing death by dangerous driving at his trial at Teesside Crown Court.
Gilbert was letting passengers off at a bus stop in Darlington when he fatally injured Eileen Brennan, 85.
The 53-year-old of Middleton St George, County Durham, was banned from driving and is due to be sentenced on 17 April.
The crash also injured left Tracy Naisbitt whose leg was crushed against a shop window in Northgate in July 2016.
The court heard Mrs Brennan's family and Mrs Naisbitt did not want Gilbert to be jailed but wanted to hear him admit his culpability.
The hearing was told he had pressed the accelerator instead of the brake, before later claiming the bus was faulty.
However, the vehicle was found to be in working order during a mechanical examination.
The prosecution told the court Gilbert had taken a safety "short cut" by holding the bus on its handbrake instead of taking it out of gear and putting it in neutral.
That constituted dangerous driving, the prosecution alleged.
However, a driving instructor told the jury keeping the bus in "drive" rather than neutral would merit a fault in a test - with a driver failing the test only after four faults.
As a result, the prosecution offered no further evidence when Gilbert admitted the lesser careless driving charge.
Judge Howard Crowson instructed the jury to accept the plea.
The judge said: "A risk was being run that only this tragedy, it seems to me, has revealed.
"It is impossible that a man would be driving dangerously if he was adopting a policy which was widespread amongst his colleagues."