Arrest after car shot at from motorbike in Stockton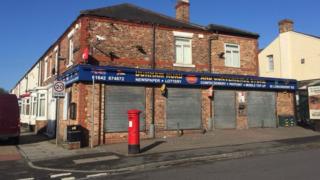 A 33-year-old man has been arrested after shots were fired from a motorbike into a car carrying three people.
Police arrested the suspect in the early hours on suspicion of being in possession of a firearm with intent to cause fear of violence.
The shooting on Londonderry Road in Stockton at about 13:00 BST on Wednesday left residents feeling "worried" and "scared".
Three people in the silver Ford Focus were unharmed, police said.
Shots were fired at the car while it was parked outside a post office.
'Feeling shocked'
One resident said: "It's scary because you think with everything that is happening in London, with the shootings and the acid attacks, you start thinking 'Is it going to start happening round here?'.
"If I had been walking past here 10 minutes earlier I would have witnessed it, which is kind of scary because I was taking my daughter to nursery to go to work.
"I'm worried - anyone could have got hit or killed."
Another said: "I feel a bit shocked right now, I feel a bit unsafe that people are just walking around with guns.
"It makes me not want to walk round here now."
A third resident commented: "I'm shocked because there's kids that play out here all the time and it could have been one of them who got in the way.
"I am scared to walk with my daughter round here because I wouldn't want anything to happen like that."