Durham Police officer Mohammed Perwaze 'repeatedly raped girl'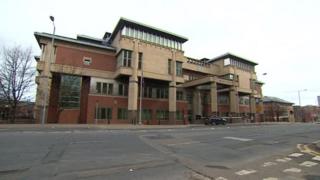 A police officer accused of repeatedly raping a young girl once told her: "I can love you more than your puppy ever will", a jury has heard.
Durham officer Mohammed Perwaze, 45, denies four counts of rape and 14 other charges relating to the girl. He also denies cruelty towards two boys.
A Sheffield Crown Court jury was told the alleged abuse of the girl began when she was eight years old.
Prosecutors said the girl had been "broken down" by constant attacks.
Simon Reevell QC, prosecuting, said: "By the time she was a young adult, she had quite literally been broken down by this man so he could use her for his sexual gratification because of the sexual attraction he had had for her since she was eight years old."
He said on the surface the officer was "respectable", but described a catalogue of sexual assaults, which included tying the girl to a bed.
'There for you'
He added: "He was clever and he was manipulative. He was violent towards her."
The prosecutor read extracts from emails sent by Mr Perwaze, of Barnard Castle, County Durham, to his alleged victim, one which said: "I can love you more than your puppy ever will."
Another said: "I will be the one person still there for you always".
The court heard the girl once told the defendant he was "no different to the sex offenders that he arrested at work".
The abuse happened in two phases, the jury was told. The first spanned five years, starting when the girl was eight, when Mr Perwaze lived in Yarm, near Stockton-on-Tees, and it began again when she was in her 20s.
Mr Reevell told the jury Mr Perwaze was also violent towards two young boys for 10 years from when they were each six years old.
He said the officer was arrested after the girl finally complained to police.
The trial continues.