Bishop Auckland shooting: Man wounded by armed police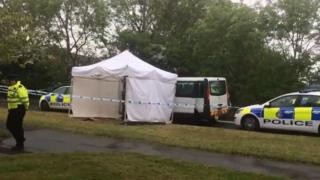 Armed police shot and wounded a man through a taxi window after he ignored warnings to get out of the vehicle, a witness has said.
Durham Police said it responded to reports of a man carrying a handgun in the James Street area of Bishop Auckland at 10:46 BST.
Shop owner Jared-vinder Singh said he dialled 999 when he saw a man in his shop loading a weapon.
A 23-year-old man has been arrested in connection with the incident.
Witnesses said before the shooting, a man entered a nearby workingmen's club and asked to be served alcohol.
He left when staff refused and went into Mr Singh's shop.
Mr Singh said: "This man just looked like a normal customer, but he went into a corner and when I looked I could see he had an automatic gun and was loading it.
"I was totally shocked when I saw the gun and thought he might hurt me.
"Then all of a sudden two customers came in and it looked like he changed his mind and went out. He had a taxi waiting outside. Then I rang the police.
"I think I was lucky there."
A Durham force spokesman: "Police were called to Bishop Auckland after reports that a man had been seen in the area with a handgun.
"The Independent Office for Police Conduct has been informed of the incident and we will be supporting the IPOC investigation."
The IPOC said what appeared to be a firearm had been recovered from the scene.