Hospice boss Graham Leggatt-Chidgey guilty of fraud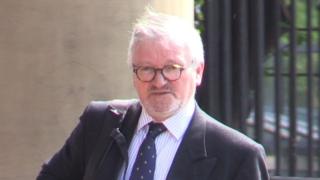 A hospice boss who defrauded the charity out of £91,000 has been jailed for four years.
Graham Leggatt-Chidgey, chief executive of Teesside's Butterwick Hospice, used its corporate credit card for luxury hotels, designer clothes and jewellery.
The 63-year-old, who lived in Rokeby, near Barnard Castle, County Durham, previously pleaded guilty at Teesside Crown Court.
He was described in court as a "skilled fraudster".
Between 2009 to 2017, Leggatt-Chidgey spent more than £30,000 on hotels and restaurants including a £2,284 trip around the time of his wedding anniversary to the five-star Glenapp Castle Hotel in Aryshire, and £3,739 on trips to the Cambridge Hilton, close to the home of a family member.
He spent more than £20,000 on travel tickets and £18,000 on clothes and jewellery as well as more than £4,000 on Mont Blanc pens.
Working for the charity for more than 21 years, the court was told his double-barrelled name, military ties and wealthy demeanour led staff to think he had independent means.
'Sickened'
The hospice, which has facilities in Stockton, Bishop Auckland and Weardale and provides care to people of all ages with life-limiting illnesses, was set up by Mary Butterwick in 1984 with money from the sale of her house.
Chairwoman of the charity's trustees Judith Hunter contacted police with suspicions over Leggatt-Chidgey, who had a £68,000 annual salary, in March 2017.
Inquiries had been made about his credit card use after he was seen using it to buy expensive rounds of drinks at events, including cocktails and Champagne.
Following his arrest, the the hospice estimated its donations fell by £100,000 and it said staff and volunteers had been verbally abused by members of the public.
Det Sgt Andrew King, of Cleveland Police, said Leggatt-Chidgey had "abused his trust" and "portrayed an image of wealth when in fact it was the charity's money".
Peter Barron, a fundraiser and ambassador for the hospice, said he was "sickened" by the fraud.
"It's hard to believe someone could do that to a charity; you've got children desperately ill. I can't comprehend it."