Redcar WW1 sand sculptures vandalism a 'mindless act'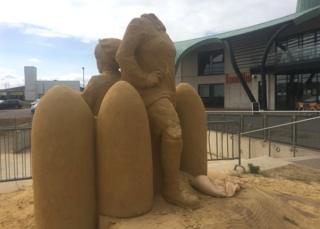 Sand sculptures commemorating World War One have been vandalised.
Heads and faces have been knocked off the six pieces built on the seafront at Redcar on Teesside in May.
The town's branch of the Royal British Legion said it was a "mindless act of vandalism" and residents said it showed a "lack of respect".
Chairman Eric Howden called it "just disgraceful when you think that these sculptors had come from all over the United Kingdom and beyond".
"They did a tremendous job building these sand sculptures depicting different aspects of the war and Redcar's involvement in the war," he said.
"It makes you feel a little bit ill and gets you right in the gut that somebody could do this just for the fun," Mr Howden said.
"It's not fun; that's just vandalism."
The sculptures, which are said to be too robust to break accidentally, were created as part of the Kick Off The Summer event in May to commemorate the 100th anniversary of the end of WW1.
The damage has prompted a large response on social media.