Teesdale's Wynch Bridge was closed over safety fears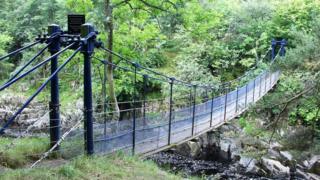 A 200-year-old bridge that closed for safety reasons while "serious" damage was repaired has reopened.
The Grade II listed Wynch Bridge, near High Force waterfall in Teesdale, is one of the best known landmarks in the area.
A routine inspection earlier this month found suspension hangers were in need of repair.
Visitors have been asked not to hang from or stand on the bridge's wires "to prevent further closures".
Further work will take place but the bridge will remain open, Durham County Council said.
'Popular'
The bridge allows walkers to access the Pennine Way National Trail from Bowlees Visitor Centre up to High Force.
It was built for the Duke of Cleveland in 1820 as a replacement for what was said to be the earliest suspension bridge in Europe.
Brian Buckley, from the council, said: "We would please ask that all users adhere to the restrictions displayed at each end of the bridge and do not hang from or stand on its wires ropes."
New steel brackets have been made and fitted to the crossing.
The council said it will be developing a scheme to fully refurbish the bridge and will carry out the work when sufficient funding is available.
Simon Wilson, from the North Pennines Area of National Beauty Partnership, said he was "pleased" that the bridge had reopened, and added: "It is a popular entry point to a very spectacular part of the Pennine Way."