Confused, 'old and lonely' would-be robber arrested waiting for bus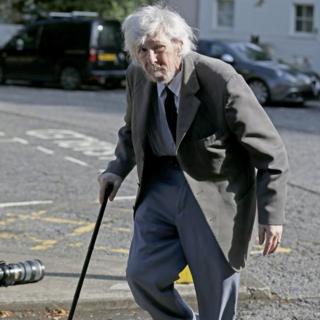 A 69-year-old would-be armed robber, who tried to use a bus to make his getaway, was showing signs of dementia, a judge has said.
Kenneth Dodds took a replica revolver into a cafe in Newton Aycliffe, County Durham, and then a nearby post office, demanding £100 from both.
He then walked with the aid of a stick to wait at a bus stop and was arrested.
Dodds was given a community order after admitting attempted robbery and possessing an imitation firearm.
Durham Crown Court heard shocked staff at Cafe Pronto and then Young's Post Office were confronted by Dodds, who was brandishing a replica Colt 44, on 22 February.
'Fear of their lives'
Police found Dodds, who left both premises empty-handed, waiting at a nearby bus stop.
Earlier, the court heard from a police firearms officer, who said it would have been "difficult to assess" whether the plastic replica revolver was the real thing.
A number of staff at the two sites were "put in fear of their lives" by Dodds, who had no previous convictions, the court was told.
Judge Jonathan Carroll gave him a three-year community order, claiming the extent of the defendant's poor health meant it was a "rare case which falls wholly outside the guidelines".
Dodd lives with his son who is his carer and the judge said he had "real sympathy" for their difficult situation, on account of the father's failing health which made him seem a lot older than his chronological years.
Memory blank
Sentencing him, the judge said: "Physically and mentally, you are becoming a frail old man. It may be that you have the early stages of dementia, which marks this case as being very different from other cases where people take out guns and threaten others."
Tom Mitchell, defending, said a "combination of drink and medication, coupled with age and incipient dementia", led to the offence.
Describing Dodds as "old and lonely", he added: "The defendant himself has little inkling as to how this happened, and, to be frank, he has little memory of it actually happening."
Dodds was also given a three-year restraining order banning him from entering either of the establishments where the offences were committed, and was ordered to fulfil a 50-day rehabilitation activity requirement.