Indonesia earthquake: Darlington students caught up in 'nightmare'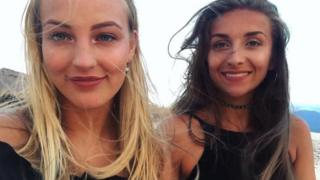 A student caught in an earthquake which killed 14 people in Indonesia said she had "never run so fast in my life".
Kathryn Coulson and Anna Stevens, both 21, were trekking up Mount Rinjani when the 6.4 magnitude quake hit the central island of Lombok.
Ms Coulson said they were in a crater on the volcano when rocks started falling and they "just had to run away from the landslide".
The situation "definitely feels like a nightmare", according to Ms Stevens.
At least 16 people have died and more than 330 were injured, according to the latest estimates.
The pair, both students from Darlington, had set off at 04:00 local time on Sunday from a lake to climb out of the volcano, before the earthquake started at about 07:00.
Ms Coulson said: "At first we didn't know what was happening. I was holding onto a rail and it just started shaking.
"Anna said my eyes just went so big and I just ran back down the hill. I've never run so fast in my life."
Ms Stevens said her first thought was to "just run, just run as fast as you can".
"It felt like a nightmare at the time and we're just so grateful to be here now," she said.
"We've both spoken to our parents and our families and friends, they've all been quite worried.
"We just told them we loved them and are just happy to be able to talk to them."
The pair arrived back down the mountain at 19:00 and headed straight for an overnight ferry to Bali, where they are now recovering.
"I think we're just going to stay still and calm ourselves down. We're not ready to get on a flight just yet," Ms Stevens said.
"But we want to back in England where the ground stays still."