Lewis Maguire cancer death prompts 3G pitch review call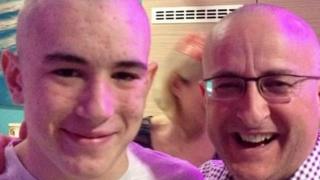 The family of a promising young goalkeeper have renewed calls for a ban on artificial sports pitches following an inquest into his death.
Lewis Maguire, 20, from Darlington, had Hodgkin lymphoma and died in March.
His father Nigel claimed his son could have contracted the disease after being exposed to "crumb rubber" found on so-called 3G pitches.
But, recording a narrative verdict, Newcastle Coroner Karen Dilks made no reference to the family's claims.
Ms Dilks concluded Lewis died of natural causes and complications from cancer surgery.
In 2016 Mr Maguire, a former chief executive of NHS Cumbria, called for a review of 3G pitches, claiming chemicals contained in tiny pieces of shredded rubber contributed to his son's cancer.
He said that as a goalkeeper, his son was more exposed to the rubber crumb than outfield players.
The inquest, in Newcastle, heard from forensic pathologist Dr Peter Cooper, who said Lewis, who had trials with Leeds United, died as a result of "multi organ failure", having had a bone marrow transplant.
But after the verdict, Mr Maguire renewed his call for more research into 3G pitches, adding that they should be banned until it is proved beyond doubt they are safe.
He said: "I will continue to press for answers, not least because Lewis wanted those answers and I owe it to him to get them."
Rubber used in 3G pitches often comes from used car tyres, which are known to contain chemicals like lead, mercury and benzene.
The Football Association (FA) said there were about 500 3G pitches in the UK and added it was aware of concerns, but was "comfortable with current health guidelines".
The surfaces have been widely introduced in the UK because they can be used continuously in bad weather. They are used by clubs in all top four leagues in Scottish football and Premiership rugby union teams in England, including the Newcastle Falcons.
The Sports and Play Construction Association, which is the UK trade organisation for the sports and play facility construction industry, said there were "numerous research studies carried out worldwide" and "the current consensus is that the rubber crumb poses no significant health risk".