Deerbolt YOI: A third of inmates kept in cells during working hours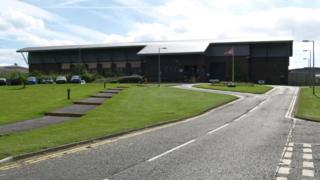 Too many inmates at a young offenders' institution are being kept locked in their cells instead of being given work or training, an inspection has found.
Her Majesty's Inspectorate of Prisons said a review of Deerbolt in April also found all disciplinary procedures, including use of force, were "poorly governed".
Overall, inspectors deemed the Teesdale prison "reasonably good".
The Ministry of Justice said improvements are already under way.
Inspectors visited Deerbolt, which has about 400 inmates aged between 18 and 24, between 16 and 27 April.
'Showed promise'
Peter Clarke, chief inspector of prisons, said "there was very much positive" about Deerbolt, which is also a category C training prison, but some issues did raise concerns.
He added: "The prison did not have enough activity spaces to occupy the population and we found a third of prisoners locked in their cells during the working day.
"This was a concern given the establishment's role as a training prison for young men."
He also said a new skills academy "showed "promise" but "teaching was variable and many prisoners did not make the progress they were capable of".
'Victimisation'
On the issue of disciplinary procedures, officers' body-worn cameras "were not consistently used" and footage was not reviewed regularly enough, the report found.
It added: "Where force had been used, there were too many missing staff reports."
Mr Clarke called for more research to understand how to effectively tackle the use of drugs in the prison where 16% of inmates said they had developed a drug habit since arriving.
He said the prison should also investigate why so few inmates would report victimisation by other prisoners (23%) and staff (37%).
In response to the report, Michael Spurr, chief executive of the prison service, said "safety and respect have been prioritised" but he accepted "more needs to be done" to improve inmates' activity levels.
He said "work is already in hand" to make improvements recommended by Mr Clarke's report.