Woman, 73, died 'after being bitten by police dog'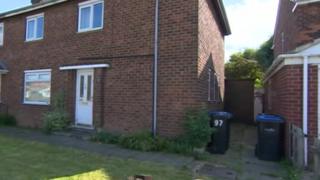 A woman died after she was attacked by a police dog that was searching her garden for a suspected drug dealer, an inquest heard.
Irene Collins, 73, had allowed officers to search her Middlesbrough property for the man in July 2014.
The German shepherd managed to get into her house and twice bit Mrs Collins, who died four days later in hospital.
A post-mortem exam showed she died from lung disease, but a pathologist said her death was hastened by the bites.
Assistant Coroner Karin Welch told the inquest jury that no-one was on trial, with the hearing about establishing facts around Mrs Collins's death.
It would consider, among other topics, the dog's training, previous behaviour and how it got into her home.
Leg and arm bites
The jury was told the police helicopter had been involved in the search for the suspect in back gardens in Penrith Road, Park End, at about 21:00 BST on 16 July 2014.
PC Mark Baines and his dog, Dano, were called in to help as trees and undergrowth were blocking the view.
Another officer Sgt Neil Yates told the jury he gained permission from Mrs Collins to search the garden but agreed she would not have been aware a dog would be involved.
He said he heard on the radio she had been bitten and went into the house to see Dano biting her forearm and PC Baines shouting for it to "leave", and grabbing its collar.
PC Baines managed to get the dog away into the hallway and Sgt Yates went to treat her.
'Consider shooting dog?'
However, there was only an archway linking the hall and kitchen and the dog got free and bit her on the leg.
Sgt Yates told the hearing Mrs Collins was "screaming, upset, crying, saying 'Why has this happened to me?'."
Matthew Donkin, for the family, asked if Sgt Yates, who was armed, ever considered shooting the dog.
He said: "I considered everything but that was not an option that was anywhere near viable.
"I was confident he would get the dog off in a reasonable time."
The hearing, at Teesside Magistrates' Court, continues.