Cleveland Police death bite dog 'was out of control'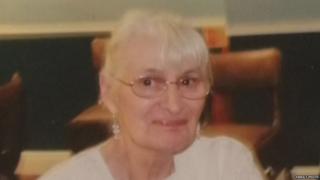 A police dog that repeatedly bit a 73-year-old woman who died days later was "out of control", a jury has concluded.
Irene Collins died four days after she was attacked in her Middlesbrough home by Dano, a seven-stone German shepherd searching for a suspected drug dealer.
In a series of conclusions, the inquest jury also found two police forces should have revealed Dano's history when selling the dog to Cleveland.
Dano had previously bitten 10 people, mainly on duty, the jury heard.
But Cleveland Police were not told that when they bought Dano for £500 from Hampshire and Thames Valley Police joint dog unit.
The jurors had been told earlier by the coroner that they must not attribute blame when returning their ruling on the circumstances of Mrs Collins' death.
Slipped collar
Mrs Collins, who had terminal lung cancer, told her son afterwards that the dog came into her house, bit her while she was standing still, knocked her over so she hit her head on a kitchen unit, and continued to attack her as she was on the floor.
She told him the dog was "out of control".
The inquest heard Dano's handler, PC Mark Baines, gave the command "out" and the dog released his grip.
But after Dano was taken into the hallway, got free from its collar and returned to bite Mrs Collins on the leg.
She required surgery for a broken arm and skin grafts and, although she made a good recovery initially, she developed pneumonia in hospital and died on 20 July 2014.
The inquest at Teesside Magistrates' Court concluded Mrs Collins died from natural causes "contributed to by the consequences of the dog bites while the dog was out of control".
The jury also found:
Mrs Collins was unaware a dog was to be used in the search
Her back door should have been checked to make sure it was firmly closed
The dog "engaged" with Mrs Collins four times
Further action should have been taken to stop the dog going back into the kitchen once the handler had removed it into the hall
Following the hearing, Mrs Collins' son Eric Collins told reporters: "I am very angry with the police. This has been a disgrace on their part."
He paid tribute to his mother, a retired hospital worker, saying: "She was the most gentle woman you could ever want to meet.
"She wouldn't harm a fly and this family loved her to bits."
Cleveland Police said since the attack it had altered its policy when acquiring dogs and now asked for full details of an animal's past.
Assistant coroner Karin Welsh asked the force to consider requiring dog handlers to carry two leads after she heard PC Baines could not control Dano with his leash after it got tangled under Mrs Collins.
Dano was destroyed following the attack.
Following the conclusion of the inquest, the Independent Office for Police Conduct (IOPC) published its findings from an investigation into the case.
The IOPC said it found PC Baines had a "case to answer for gross misconduct" saying he:
Was responsible for handling the dog
Failed to undertake an appropriate risk assessment before releasing the police dog in Mrs Collins' garden
Failed to control the dog once it was released.
Following a misconduct hearing in November 2017, the case was proven and PC Baines received a written warning, the IOPC said.