Steven Willis 'stabbed to death' after Middlesbrough wake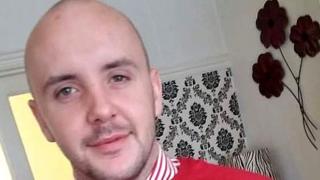 A man was stabbed to death by his cousin when violence broke out after a family wake, a court has heard.
Steven Willis, 27, was stabbed in the heart during a "shameful episode of street violence" in Middlesbrough on 16 April, Teesside Crown Court was told.
Mr Willis was aiding his father who was involved in a fight with three nephews outside his home, jurors heard.
In total, five men, all from Middlesbrough and aged between 21 and 32, deny murder and manslaughter.
The court heard Mr Willis had run out of the Meadowcroft Road house with a samurai sword after his father, John Pickering, was knifed, but was quickly disarmed and forcefully stabbed through the breastbone.
Mr Pickering's nephews Kieran Ibitson, 21, of Beresford Crescent; Dominic Pickering, 23, of Grinkle Avenue and Mark Pickering, 32, of Greenham Close, deny murder and manslaughter, as do friends Jahmal Weaver, 22, of Rounton Green and Jack Cross, 21, of Olney Walk.
'Devastating injury'
It is claimed Mr Ibitson took a knife to the confrontation and stabbed his uncle and his 17-year-old cousin Lennon Pickering, and then killed Mr Willis - John Pickering's son from a previous relationship.
Richard Wright QC, prosecuting, said the group had earlier attended a wake at a nearby social club, where Mr Pickering and his nephew Mark had briefly fought.
He said when the five young men later pulled up outside Mr Pickering's house, he was "stripped to the waist and ready to fight".
But when Mr Pickering was stabbed in the torso by Mr Ibitson, Mr Willis emerged and was himself stabbed, the court was told.
Mr Wright said: "Steven Willis managed to stand and walk back into the house for a short while before he returned to the road and collapsed.
"He died there in the street within minutes from that devastating injury.
"At the same time the defendants, all five of the team together, were being driven away.
The trial, which is due to last up to five weeks, continues.