Data breach names 1,661 people restrained by Cleveland Police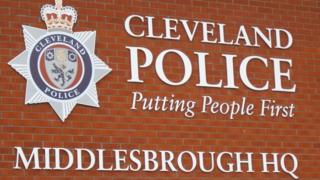 Cleveland Police has admitted accidentally publishing the personal details of 1,661 people who had to be restrained by its officers.
The force said it mistakenly posted on its website an unredacted version of a spreadsheet detailing the "use of force" between April and June.
Names, dates of birth, ethnicity, and "limited health and wellbeing" data was included, but not addresses.
The force said it was making efforts to contact those affected.
The Information Commissioner's Office (ICO) was informed of the breach, which happened on 24 July.
Cleveland Police said it was alerted to the error by another force on 28 September.
'Human error'
A spokeswoman said: "We are required to publish data on officers' use of force, whether that is a form of restraint, handcuffing, use of Taser or irritant spray.
"The excel spreadsheet, uploaded on 24 July contained two data tabs - a redacted version which would ordinarily be published and an additional tab which contained the personal information of 1,661 people who were subject to force being used between 1 April 2018 and 30 June 2018.
"We have found that over a two-month period there has been around 60 individual views of the spreadsheet.
"Some of these were people accessing the data from within criminal justice agencies and other police forces.
"It is unclear how many of these 60 viewers have then clicked on the additional tab within the document that includes the personal information.
"However, as the spreadsheet shows the redacted information first, it's likely many of these people did not click on the additional data tab.
"As soon we were made aware, steps were taken to remove the information from public view and the breach was referred to the Information Commissioner.
"An investigation by the Cleveland Police directorate of standards and ethics found the incident occurred due to human error."
The force said safeguards had been put in place to reduce the risk of anything similar happening again.
An ICO spokesperson said: "Cleveland Police has made us aware of an incident and we will be making inquiries."