Sarah Bramley's sex photo sparked love rival murder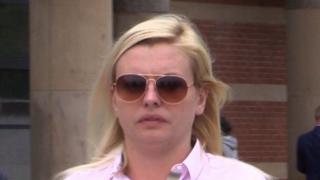 A woman has been jailed after sending a picture of her performing a sex act with her new lover to her ex, who then murdered him out of "jealousy".
Sarah Bramley, 29, from Darlington, was sentenced to four months after admitting encouraging or assisting the commission of an offence.
She sent David Saunders, 33, the intimate picture of her with Michael Lawson, 34.
Saunders later stabbed Mr Lawson and was jailed for murder.
Teesside Crown Court heard Bramley sent the image believing her former partner would carry out a common assault, rather than commit murder.
But in the early hours of 1 July last year, shortly after receiving the photo, Saunders stabbed father-of-one Mr Lawson through the heart.
In December, Saunders was jailed for life with a minimum term of 22 and a half years, after he admitted murdering Mr Lawson in Darlington.
At the time, Judge Stephen Ashurst told Saunders: "Jealousy was very much at the heart of your behaviour.
"Ultimately a life was needlessly lost because of a loss of control."
Bramley, a mother of two young sons who is expecting a baby in February, was not in the country when Saunders was sentenced.
Sentencing Bramley, Judge Stephen Ashurst said: "Although you did not contemplate that Saunders would go on to kill Michael Lawson, I take the view it is hard to conceive a more serious case of encouraging the commission of a common assault."
Bramley revelled in having "violent" Saunders and "kindly" Mr Lawson vying for her attention at a time when she had "lost her moral compass" and was affected by alcohol and substance abuse, her barrister Robert Newcombe told the court.
He also made an apology on her behalf to Mr Lawson's family, who sat in the public gallery.
'Love-hate relationship'
Nick Dry, prosecuting, said Mr Lawson's death was the culmination of a "love rivalry" with Bramley in the middle and that she continued to see Saunders despite her gaining a non-molestation order against him, and knowing he was capable of violence.
He added: "Their text messages revealed a love-hate relationship involving sexually explicit messages of love mixed with highly offensive personal abuse.
"At the same time she continued to see Michael Lawson, a kind, mild-mannered man with whom she had previously holidayed abroad.
"Bramley declared her love to Saunders and then revealed she had recently slept with Mr Lawson.
"She appeared to revel in the drama and attention of the situation."
Both Bramley and Saunders were drinking as they exchanged unpleasant texts on the night of the murder with Saunders threatening to go round to attack Mr Lawson.
The argument continued and Saunders sent a female friend of Bramley - who was with her at the time - a video of himself and his ex having sex.
Bramley responded by sending him a photo of her performing sex act on Mr Lawson taken that night, causing Saunders to become enraged and he got a taxi close to her home.
He arrived a short time after Bramley had got Mr Lawson out of her house and he was stabbed following a short chase.
You may also be interested in:
Within days of the attack Bramley left to fly to Australia and was arrested on her return to the UK.
Outside court, Mr Lawson's uncle, Ray Scaife, said: "She [Bramley] knew what she was doing, she wound that guy up, knowing that he was violent."