Middlesbrough youths stood on fire crews' hoses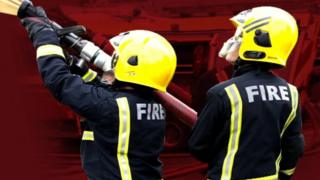 Firefighters tackling a blaze in Middlesbrough came under attack from youngsters who threw wood and stood on hoses to prevent the flow of water.
Youths also opened the rear doors of fire engines to try to remove life-saving equipment, Cleveland Fire Brigade said.
It happened as crews were trying to put out a rubbish blaze in the Fransham Road area of the town.
The youngsters also tried to start another fire nearby, the brigade said.
Davey Howe, of the Fire Brigades Union, said youngsters see such attacks as being "almost like a game".
CCTV footage of the trouble, which happened on Thursday evening, has been passed to police.
It was the latest in a number of incidents over recent days - one of which saw between 30 and 40 youngsters at the scene, according to the brigade.
'Mindless attacks'
Cleveland crews have recently started wearing body cameras as part of a pilot scheme that aims to stem such attacks.
Mr Howe said: "We need to get to the root cause of it. A lot of the attacks are opportunistic by young people and it's as if it's almost like a game.
"We need to get to these young people and make them realise it stops us from doing our job properly.
"That's why we've resorted to wearing cameras. They're to make people think twice before these mindless attacks."
The brigade said there had been a 60% increase in the number of attacks on its crews in recent years.
From April 2017 to March 2018 it recorded 45 incidents - up from 28 attacks between April 2015 and March 2016.
Knives, metal bars, catapults and laser pens have all been used against crews.