Care home whistleblower 'sacked after raising concerns'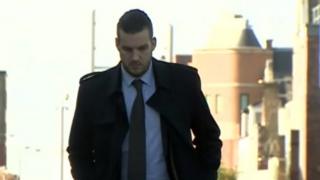 A whistleblower was sacked by a care home on the day he raised concerns over residents' safety, a tribunal heard.
Lee McLaughlin claimed he was unfairly dismissed as clinical services manager at Bupa's Hillview home in Eston, Teesside, in June 2017.
He had also highlighted worries over staffing levels, the hearing in Middlesbrough was told.
Bupa said he was fired after making inappropriate remarks about staff and record-keeping issues.
The tribunal heard Mr McLaughlin handed an incident report to the home's manager, Anthony Atkinson, on 5 June after an elderly resident almost fell when being lifted into a sling that was too big.
Mr Atkinson, it was alleged, scrumpled it up, and later that day he fired him from the home for elderly and vulnerable people.
Bupa's Aileen Waton denied Mr McLaughlin's claim that standards fell after he was sacked and said he had been partly to blame for failings exposed during an unexpected investigation a month after he had left the home.
The Care Quality Commission found Hillview did not meet people's needs, had inadequate staffing and did not administer medicines properly.
Inspectors reported one resident had been left on a toilet for three hours, two had not been given breakfast by 11:30 and a bin was overflowing with used incontinence pads.
A further incident saw kitchen staff playing catch with a prosthetic breast belonging to a resident.
Inspectors deemed Hillview unsafe and it closed in September last year.
The tribunal will resume on Wednesday.