Simon Hurwood: How was sex pest Cleveland Police officer exposed?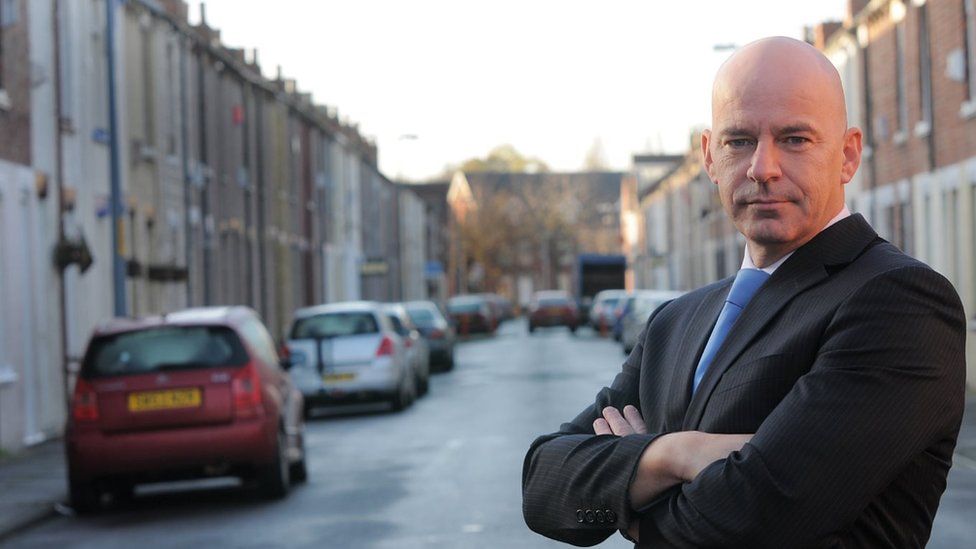 Detective Inspector Simon Hurwood won much praise for his policing during 27 years of service. But for much of that time he was also targeting vulnerable colleagues for sex. How did it happen and how was it exposed?
One Monday early in January, an anonymous email was sent to Cleveland Police's Counter Corruption Unit (CCU).
Its contents rocked the force to its core and triggered a major internal investigation the same size as a manslaughter inquiry.
And it has now led to the official exposure of a senior officer of 27 years' standing as a man who targeted vulnerable female colleagues for "his own sexual purposes".
Over the course of 14 years, Simon Hurwood befriended women at work and requested sex.
Some gave him short shrift and he stopped but four attempts escalated into full sexual contact.
The longest relationship lasted months "if not more than a year", according to Det Ch Insp John Wrintmore, who led the investigation.
All but one of the women were junior to him and he was the supervisor for some.
But all the episodes were "shocking, troubling and disturbing", according to Mr Wrintmore.
"I was gobsmacked, dumbfounded," he said. "It was quite upsetting."
Mr Hurwood targeted junior officers who were having issues in their personal lives.
He would exchange phone numbers and reveal his own "personal difficulties" to garner sympathy and ultimately guilt if messages were not responded to.
Text messages and emails became flirtatious and then sexual - a number of women said he asked them to wear white underwear to work.
Then he would request explicit pictures of the women, some of whom complied.
There were "clear issues of coercive type behaviour" but no evidence of any violence or physical force being used, Mr Wrintmore said.
All of the women worked either for the police or "partner agencies" and there is no evidence Mr Hurwood did the same thing with members of the public or, for example, vulnerable victims of crime.
But Mr Wrintmore said "it would be naive to think there had not been any inappropriate sexual approaches" made outside of the force and he urged anyone with concerns about Mr Hurwood or any other officers to contact police.
He also said while there were 21 women known to have been targeted, "there probably are people who have not come forward".
What did Mr Hurwood say about it?
Mr Hurwood denies any wrong-doing.
Although he did not attend the hearing and was unrepresented, he provided written responses in which he said all sexual activity was consensual and happened while off-duty.
In a number of the cases he said the women instigated the messages.
Some of the claims he dismissed as "cruel nonsense," others he called lies.
In interviews, Mr Hurwood sought to "portray himself as the victim with lacerating criticisms against some of the complainants", the misconduct panel was told by John Beggs QC, who represented Cleveland Police.
"Even when faced with overwhelming evidence to suggest the contrary, he maintained he had done nothing wrong and sought sympathy," Mr Beggs said.
Mr Beggs said Mr Hurwood's response could be summed up with one comment he made, which was: "The only mistake I have made is helping the majority of these people at some of the most difficult times of their lives.
"Most of them are lying."
Simon Hurwood joined Cleveland Police in February 1991.
In June 2003 he was promoted to sergeant and in October 2014 became a detective inspector for the force's Professional Standards Department, the unit meant to investigate alleged police officer misconduct.
It was shortly after his first promotion that the messages began, with Det Ch Insp Wrintmore saying: "There is strong indication he has taken advantage of his position of seniority".
There were times when he was the acting deputy head of the standards department before he left for neighbourhood policing in April 2016.
Mr Hurwood resigned in September this year.
Det Ch Insp Wrintmore said none of the cases his former colleague was involved with would be affected by the revelations of his behaviour, which was in a "personal capacity".
What did the police do about it?
After initial back and forth with the Independent Office for Police Conduct, it was determined Cleveland Police would be best placed to investigate.
On 2 March, just under two months after the anonymous email, Mr Hurwood was arrested for sexual assault offences. Later that day he was released under investigation and suspended from duty.
But there was not enough evidence to proceed with a criminal prosecution or misconduct in public office charges, Mr Wrintmore said, adding: "I am disappointed we have not been able to pursue that."
Mr Hurwood's conduct was investigated as a major incident.
Investigators trawled through thousands of messages and emails to build their case.
Det Ch Insp Wrintmore could not give an exact figure but said one of the women had more than 2,500 emails - all sent from Mr Hurwood's work account - which investigators had to look through.
He said on paper it was the same scale as a manslaughter investigation.
Though he has resigned, the force said it wanted to hold the misconduct hearing to show such matters were being dealt with and add Mr Hurwood to a barred list preventing him from future police work.
You may also be interested in:
Cleveland Police said the anonymous email that triggered the investigation came about after work from the CCU to "encourage reporting of inappropriate behaviour".
But the #MeToo movement, a global crackdown on sexual misconduct, has also played a key part.
"It is only in the last year with #MeToo that people have had the strength and feel they have the support of organisations to report this kind of behaviour," Mr Wrintmore said.
He added: "I commend the strength and courage of the 21 people who have come forward.
"We have seen a sea change, Cleveland Police is not the only organisation to face these kind of issues."
Mr Wrintmore said the revelations had come as a shock but his team were investigating whether they could have been discovered sooner.
Related Internet Links
The BBC is not responsible for the content of external sites.