Cleveland Police officer 'targeted' colleagues for sex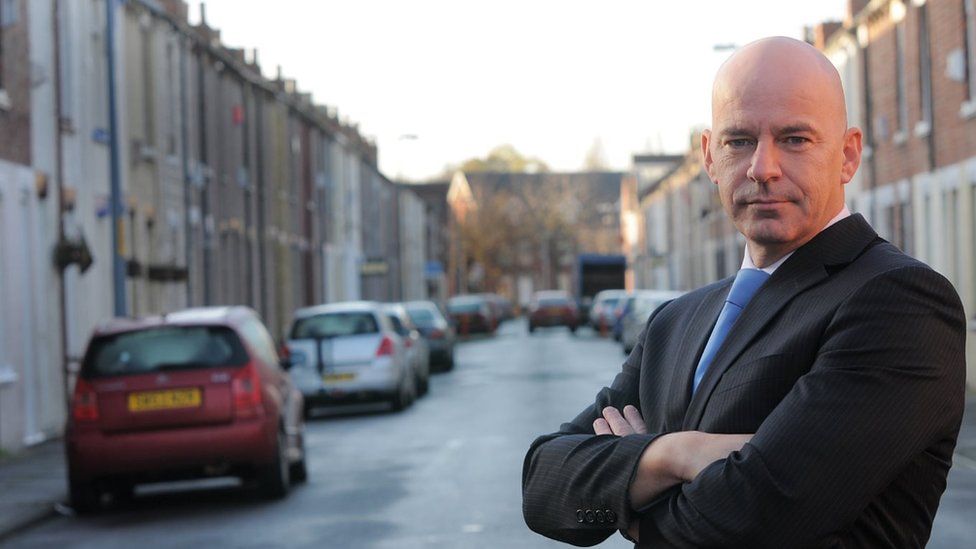 A police inspector targeted "vulnerable" female colleagues for sex, an inquiry has heard.
Det Insp Simon Hurwood sent thousands of messages to 21 women over 14 years, a Cleveland Police misconduct hearing was told.
He denies any wrongdoing, but has retired from the force with whom he had served for 27 years.
Cleveland Police said he used "coercive behaviour" and targeted women who were having personal difficulties.
Four of the cases developed into full sexual contact, the hearing in Middlesbrough was told.
Mr Hurwood joined Cleveland Police in 1991 and rose to be a detective inspector in the force's professional standards department.
However, an anonymous email was sent to Cleveland's Counter Corruption Unit (CCU) in January this year detailing inappropriate sexual conduct towards four female officers.
John Beggs QC, representing the force, said the "common theme" was of Mr Hurwood "over a lengthy period of time abusing his rank and status to gratify himself sexually with almost always subordinate and vulnerable females".
In "one of the most serious cases", Mr Hurwood targeted an officer on probation (in her first two years of service) while he was her sergeant.
The woman said he "coerced" her into performing sex acts upon him including in police vehicles and an inspector's office.
She said she feared if she "spoke up" she would have "probably" lost her job.
Mr Hurwood is not attending the hearing or being represented.
In previous interviews, he said the pair had "consensual sexual activity" at her home on two occasions.
In other cases he apologised if his behaviour was seen as "letchy" and said comments had been "mutual banter".
He dismissed other allegations as "cruel nonsense".
Mr Hurwood was arrested in March on suspicion of sexual assault offences but there was not enough evidence to prosecute, the force said.
He was suspended the same day and later retired.
Mr Beggs said there was a question about consent.
But, he added: "It is obvious Mr Hurwood should have known that the women were not freely consisting but were being coerced and were tolerating his conduct by reason of his rank and status."
Mr Beggs said the women had said any sexual activity was "not because of any innate desirability in him".
He also said: "The public do not expect police officers to have sex on duty or in police offices."
The hearing has been adjourned until Tuesday.
Related Internet Links
The BBC is not responsible for the content of external sites.