Hartlepool Council pledges discarded needle action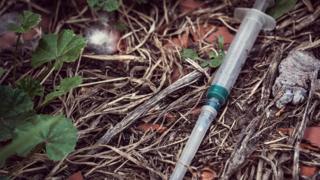 A needle exchange scheme needs to be boosted to tackle an increase in discarded drugs paraphernalia, councillors have said.
Hartlepool council currently runs a service which offers clean needles, but there is no need to return used ones to access a replacement.
One councillor described the system as "not an exchange".
An audit and governance committee meeting was told ideas to improve it were being considered.
The Local Democracy Reporting Service said the meeting followed a report by Director of Public Health, Peter Brambleby.
He said: "There has been a noticeable increase in discarded drug paraphernalia over the last two years, especially in the grounds of certain pharmacies that are now at the point of conducting daily patrols to remove such litter from their premises."
Councillor Marjorie James said: "It's not an exchange - an exchange indicates they have to bring something back to receive the clean needles.
"There has to be something that makes them return the dirty needles after they have used them."
Sharon Robson, health improvement practitioner at the council, said: "We are never going to refuse someone clean needles that needs them, that's not what we want to do.
"Again there is a lot of work to do in this area and that's where we're working out what to do."