Cleveland Police chief: Austerity cuts 'too deep'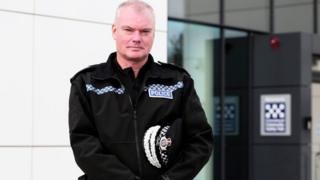 A police chief has called on the government to "give us the tools" for the job by reversing budget cuts.
Cleveland Police Chief Constable Mike Veale said "things in policing are not OK" and the service is "nowhere near where it needs to be".
The force has seen a 37% reduction in staffing along with a £25.5m budget cut since 2010.
The Home Office has been approached for comment.
Earlier this week, the BBC reported on the closure of the custody suite in Hartlepool, meaning people arrested there have to be processed 15 miles away in Middlesbrough.
Mr Veale, who was appointed chief constable in March after leaving Wiltshire Police, said there were "complex issues" affecting policing with "austerity" a factor.
He said: "Forces across the country including Cleveland are more efficient and more effective than ever before, but despite this efficiency the service we are providing the public is nowhere near where it needs to be.
"I would not be exhibiting the courage that my officers and staff deserve if I continue to say we have enough resources; if I continue with this commentary that things in policing are OK. They are not OK.
"The cuts created and caused by austerity are too deep and have gone on for too long. It is about time that trend was reversed.
"My message is clear; give us the tools and we will do the job."
Cleveland's Police and Crime Commissioner Barry Coppinger has previously said the government "must sit up and listen" to concerns about the "crippling impact of cuts".
He said the force's funding had been cut by £39m "in real terms" with the loss of more than 500 police officers and 50 PCSOs.