Grindr cheat pharmacist claims murdered wife was 'best mate'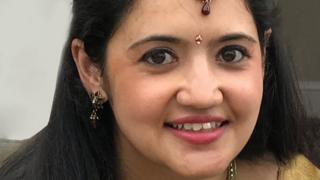 A man accused of murdering his wife so he could start a new life with his male lover told detectives he loved her and she was his "best mate", a court heard.
Jessica Patel, 34, was found dead at the couple's Middlesbrough home in May.
Mitesh Patel, 37, denies murdering her to allow him to claim a £2m life insurance payment.
Teesside Crown Court heard that four days after the murder, Mr Patel told detectives that the couple were "very happy in our little world".
Mr Patel denies strangling his wife with a Tesco bag at their home in The Avenue, on 14 May.
The court was told that during a police interview, the defendant told detectives: "We always said to each other we'd like to have our own pharmacy.
"That was our dream. We could work together and spend time together at home.
"I didn't need other mates. She was my best mate. She was my wife. I could tell her everything."
The pharmacist said the couple were trying to conceive and had undergone three cycles of IVF treatment.
This had caused his wife anxiety and she lost weight, he told police, and he urged her to stop worrying and they could foster, adopt or use a surrogate if IVF failed.
Mr Patel said his wife was concerned that "culturally", he could leave her if they could not have children.
He added: "I used to feel awful, I used to say to her 'it's not your fault'."
In the same interview he claimed his wife knew he had cheated on her with men he met through dating app Grindr.
He said: "It's extremely embarrassing to discuss these things. Yes, Jess knew but we got past it and we agreed to put it in the past and have IVF."
The court was also told police found £2,000 in a plastic bag when they went to arrest the defendant in Halifax.
The also found £25,000 in a safe in a storeroom in the Middlesbrough pharmacy, as well as "large amount of" gold and silver jewellery, including watches, coins, gold bars and precious stones.
The trial continues.