Grindr cheat murder-accused admits lying to police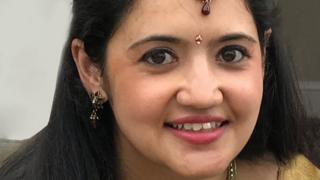 A man accused of strangling his wife to death has admitted lying to police about where he was when she was killed.
Mitesh Patel is said to have used a Tesco bag to murder Jessica, 34, at their Middlesbrough home on 14 May.
The 37-year-old pharmacist denies murder and claims a burglar killed her while he was out of the house.
But he told Teesside Crown Court he "panicked" and lied to detectives about his whereabouts because he feared suspicion would fall on him.
Mr Patel, who has admitted having affairs with men and using the dating app Grindr, initially told detectives he had not seen his wife since lunchtime, jurors heard.
But he later told his legal team he was in the house alone with her for 42 minutes after she got home at 19:00 BST, the time the prosecution allege she was murdered.
Mr Patel claimed he discovered his wife unconscious in the living room of the home they shared in The Avenue.
Nicholas Campbell QC, prosecuting, asked Mr Patel about coming home to find his "stricken" wife, calling the police instead of an ambulance and not attempting to revive her.
Mr Patel said: "I'm not a doctor, I'm a pharmacist, I deal with medicines."
The defendant also denied a claim by Mr Campbell that he subdued his wife by injecting her with insulin on the night of her death and that he staged a burglary.
"I did not kill Jess," he replied.
Mr Campbell said: "Did you have her on the floor and did you kneel on her upper chest on either side around the shoulder area to make sure that the [Tesco] bag did its job properly?"
Mr Patel replied: "I did no such thing."
Earlier the court heard Mr Patel admitted having affairs and said he had watched a video about strangulation with his wife weeks before she died.
Jurors have also been told he murdered his wife to collect a £2m insurance policy and start a new life in Australia with a male doctor.
He has told the court he loved his wife, but should have been honest about his sexuality and not married her.
The case was adjourned until 3 December, when the jury were told closing speeches would be made.