Yarm country club development plans back with council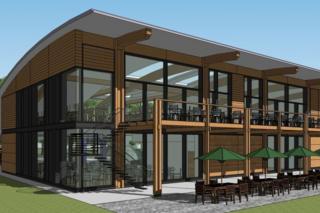 Building work on a delayed £10m leisure development could start in April.
Developers said 180 jobs would be created when the country club, swimming pool, restaurants and gardens near Leven Bank Road, Yarm were completed.
The original scheme was approved in 2016 but was nearly abandoned during legal arguments over a roundabout at a neighbouring development.
Plans have since been revised and expanded and developer Tom Howson said there would be "no expense spared".
"With us doing the country garden and everything, it's also going to take the produce from the ground to the plate within two hours," he said.
"We want to be able to bring the leisure side, the fitness side, the health side under one roof."
Original proposals to include a vineyard producing 30,000 bottles of wine a year have been scrapped.
The latest plans have been submitted to Stockton Council for approval.
If granted, work is expected to start in April with the complex opening in summer 2020.