Coronavirus: Middlesbrough business mixing ban 'unacceptable'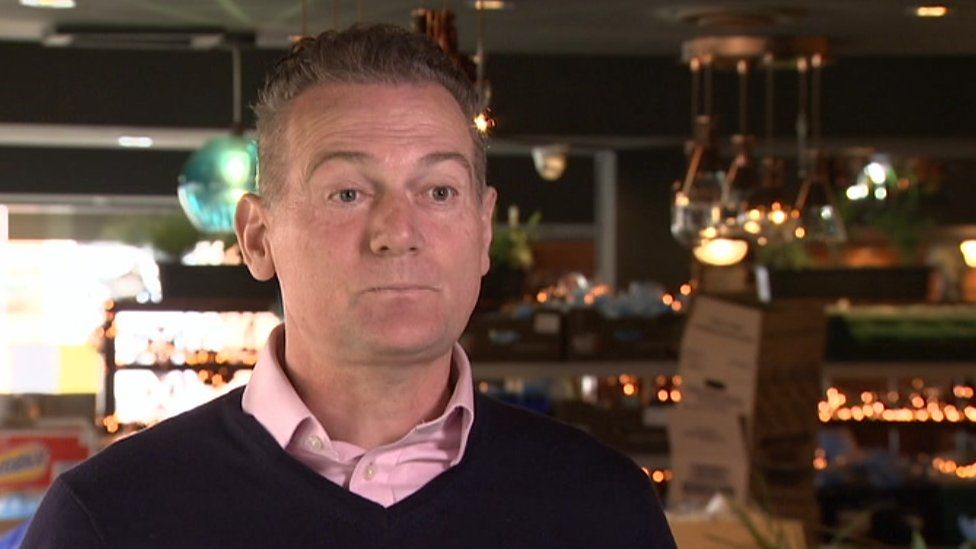 A ban on households mixing anywhere indoors in Hartlepool and Middlesbrough is "unacceptable", a mayor has said.
Middlesbrough mayor Andy Preston said the rules would "damage mental health" and "we defy the government and we do not accept the measures".
Be he said he "won't condone" anyone disobeying the new regulations.
The Department for Health and Social Care has been approached for a comment.
The new restrictions mean that from one minute past midnight on Saturday households can no longer mix in homes and gardens and indoor settings such as pubs and restaurants.
Mr Hancock said the measures, affecting 250,000 people in Hartlepool and Middlesbrough, would bring both towns in line with other parts of the North East.
Earlier this week, Mr Preston had put in a request to the government for a ban on household mixing, but without a change to the current "rule of six" for meeting others outside of homes in Covid-secure venues such as cafes, restaurants and pubs.
Following the announcement, the elected independent mayor said: "I think this measure has been introduced based on... a monstrous lack of communication and ignorance.
"They will destroy viable jobs and damage mental health.
"The government needs to understand our local knowledge and expertise and ability to get things done and preserve jobs and wellbeing."
He said the town had some "astonishingly well-run" cafes and restaurants which were capable of hosting people, socially distanced.
"That being denied is a monstrous barrier to returning to normality and protecting mental health and our culture and our society," he said.
He added: "Of course I won't disobey the law and absolutely won't condone anyone else disobeying it, but as things stand today with this announcement, I'm saying to the government 'no, it's not acceptable, it's not good enough, come and talk to us'."
Simon Clarke, Conservative MP for Middlesbrough South and East Cleveland, described the measures in a tweet as "very regrettable", but added: "We are where we are and must now focus on obeying the rules, bringing the infection rate down and getting back to normal as quickly as possible."
Mike Hill, Labour MP for Hartlepool, said it was an "absolutely disgraceful one size fits all" approach that was made "without consulting local MPs and leaders".
Hartlepool council leader Shane Moore accused the government of reneging on assurances that enhanced restrictions would not be introduced until the authority had confirmed in writing it was happy with what was being proposed.
The Hartlepool Independent Union councillor said the new rules would have a "devastating impact" on local businesses.
However, Labour MP for Middlesbrough Andy McDonald, described the move as "inevitable".
He said: "It's only 13 miles from Middlesbrough to Sedgefield in County Durham and the virus is clearly in circulation right across the region at levels that are concerning, and the virus pays no heed to the local authority borders between County Durham and the Tees Valley local authority areas."
In Middlesbrough, Toni Cook, owner of the Sticky Fingers Cafe and Rock bar, said the new rules would hit trade.
"We are not going to see the year out," she said.
"I understand there's a virus and I understand it's rampant but we all need to act and conform to certain ways, but a lot of us are and we are bending over backwards to do this but we are still punished."
'Affect mental wellbeing'
Tim Cave, who was enjoying a drink on his day off from work, added: "If you've got no symptoms, does it matter if you're sat with a mate who you haven't seen for so long?
"It's just going to affect people's mental wellbeing, people need that someone they don't see every day to be able to go and sound off at."
Andrew Quinn, a student at Teesside University, said: "I've been looking forward to coming here for a year or so and then we can't even meet up with other households in our accommodation building either, so we can't see our families or our friends in the building."
Fellow fresher Amy Hardy added: "I've got friends in other halls of residences and even though we all go to university together and we're in the same lectures, we see each other every day, we're not allowed to pop to the bar for a drink, pop to the pub for a pint, it's madness really."
The Reverend Gemma Sampson, the curate of two churches in Hartlepool, expressed concerns about the effects of the restrictions.
"One of my congregation said to me 'I'd rather die of coronavirus than loneliness'," she said.
"And I feel like both those things are an equal threat and the risk of loneliness is so great in the worst possible way."
The boss of Middlesbrough FC said the public should fully appreciate the seriousness of coronavirus, having recently recovered from it.
Neil Warnock, 71, said: "It's life and death with this horrible virus."
Related Internet Links
The BBC is not responsible for the content of external sites.