Drag Race UK: Cherry Valentine tells of 'rollercoaster' year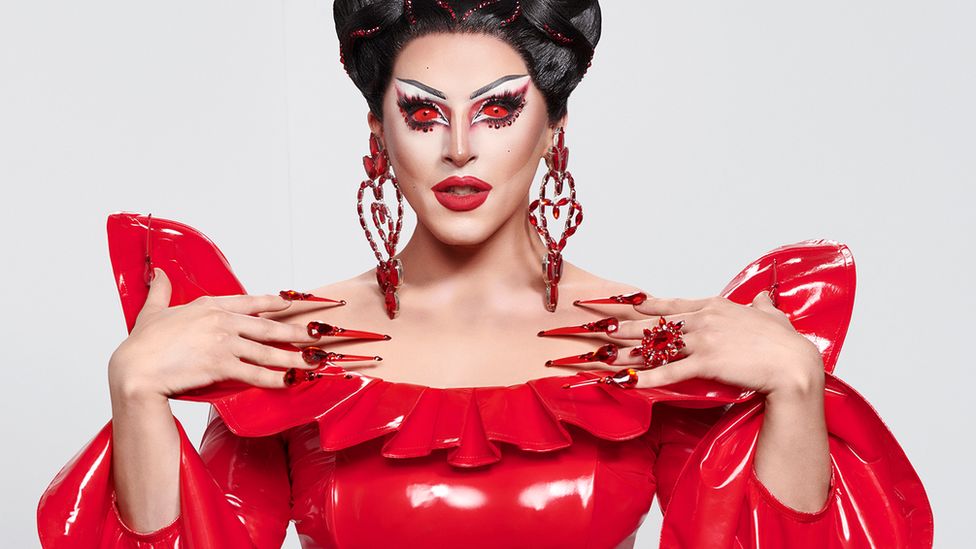 Drag Race UK contestant Cherry Valentine hopes her appearance on the TV show will show people "whoever you are, you can do what makes you happy".
The 26-year-old mental health nurse, from Darlington, County Durham, is one of 12 drag queens in the second series.
She said she "returned to the frontline" when filming was halted last year by the coronavirus pandemic.
The series launches at 19:00 GMT on the BBC iPlayer.
Describing herself as coming from a "strict background where all of this is not really classed as normal or something you'd do", Cherry said she was "excited" the series was finally being broadcast.
"I'm excited to bring the world's eye to Darlington because it's such a crazy town. We're all a bit odd!
"I just wanted to go on and show wherever you come from, whoever you are, you can do whatever makes you happy.
"Drag Race has literally been a catalyst. To me, it's not just drag. It's art. I feel really proud to have a platform."
Cherry was introduced to the drag scene while a student at Lancaster University.
"I went to Manchester for a couple of nights out and thought 'this is crazy, this is what I want to do'. That's when Cherry was born.
"I did drag in Darlington behind the scenes. It was a case of doing it when your parents are out of the house and dressing up in your mother's clothes, strutting round the house in nails."
"Since Covid, it's not been a normal life for anyone. I took up nursing again and started working on the frontline. It's been a rollercoaster ever since.
"We're more than meets the eye. My message would be 'don't judge people'.