Auckland Castle's clock bell 'almost 1,000 years old'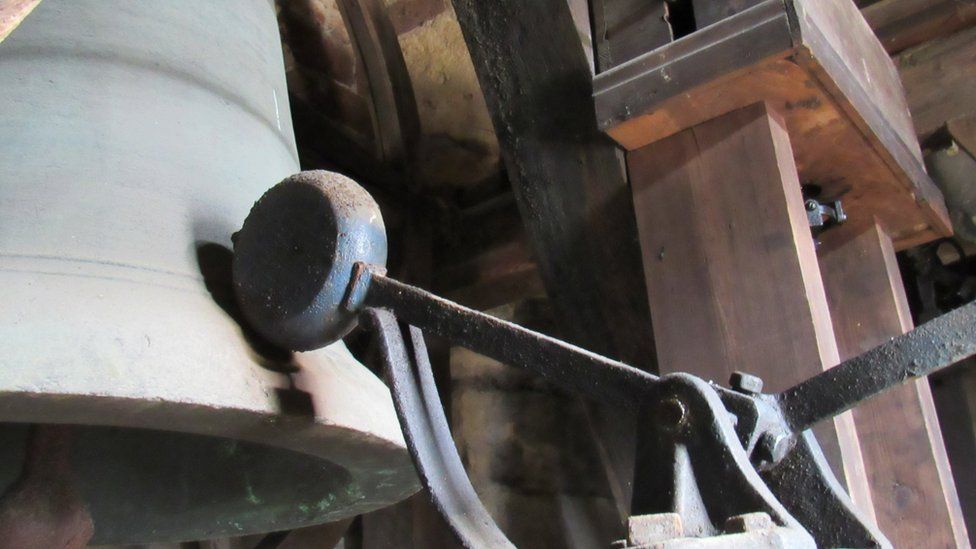 A castle's clock bell thought to date from the mid-18th Century is actually closer to 1,000 years old, restoration experts say.
The announcement comes after historians examined an inscription found on the bell at Auckland Castle in County Durham.
While the tower was built about 1760, it is now thought the bell can be traced back to between 1175 and 1200.
The discovery has been described as "remarkable".
It was previously assumed the bell had been cast when the tower was constructed.
John Castling, archaeology and social history curator at The Auckland Project, said it was "absolutely fantastic to have identified just how old and rare" the bell was as part of a six-month restoration of the tower.
"The thought that this bell may have chimed out across Bishop Auckland across 10 different centuries is genuinely awe-inspiring, and the conservation work we're commissioning will ensure its ancient notes continue to ring out across the marketplace for many decades to come."
Historian George Dawson said the bell, which has a 28-inch (71cm) diameter at its mouth, was large for its age. The inscription translates as "Stephanus made me".
"It's the largest bell of this sort of date by quite a margin. There are no known founders of this early date by the name of Stephen, but makers' names are virtually unknown at this early period.
"The wording is incised into the bell in neat lettering and it is clear it was incised into the false bell [the mould] before casting.
"As far as I am aware this would be unique in an English bell, though similar early bells are known in Germany.
"This is a remarkable survivor, the largest bell of its period and has the highly unusual, incised inscription. It deserves to be more well-known."
The 900-year-old Auckland Castle was home to the Bishops of Durham.
Related Internet Links
The BBC is not responsible for the content of external sites.