Middlesbrough teacher makes Shrek hats for returning class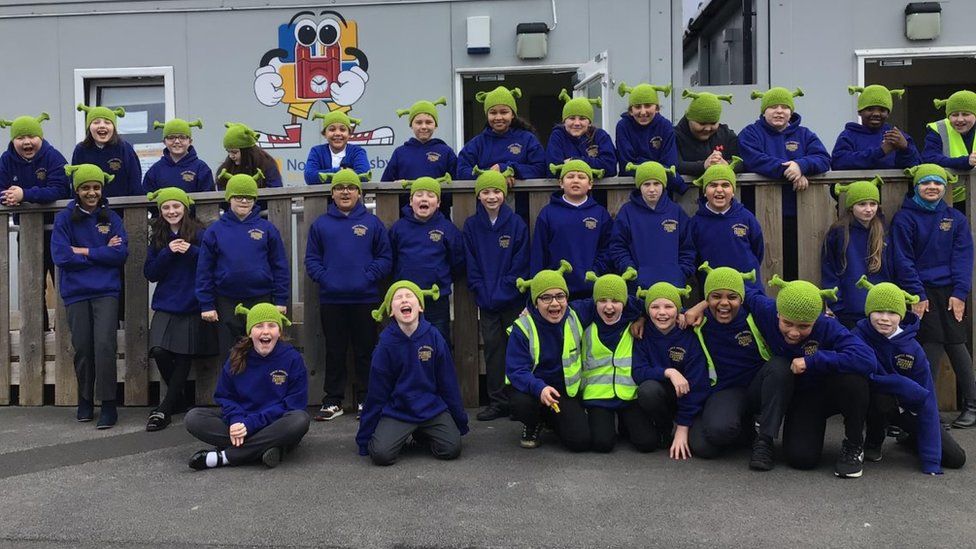 A teacher has been swamped with praise for making 34 Shrek beanies to celebrate her pupils' return to school.
Chris Dowie promised each of her Year Six pupils at North Ormesby Primary Academy, Middlesbrough, she would make them a hat for their return to class.
She said she spent 70 hours making the hats, or "four seasons of West Wing", the TV show she watched while doing it.
The teacher told BBC Radio Tees it had been a "difficult" year for the children and she wanted them to have a happy memory of "them being together and having a laugh, some little bit of joy".
"They were so happy when I first showed them the hats," Ms Dowie said, adding: "It took me five minutes to calm them down."
"It was quite bizarre when I gave them them, watching them run around the playground. We just laughed because it was so strange."
She said "it means a lot" to keep her promise to the children, which came about as several of her pupils were big Shrek fans.
"If you can't give a hug, give a hat," she added.
Related Internet Links
The BBC is not responsible for the content of external sites.