Wingate arson: Ex-marine Sean Ivey 'overwhelmed' by generosity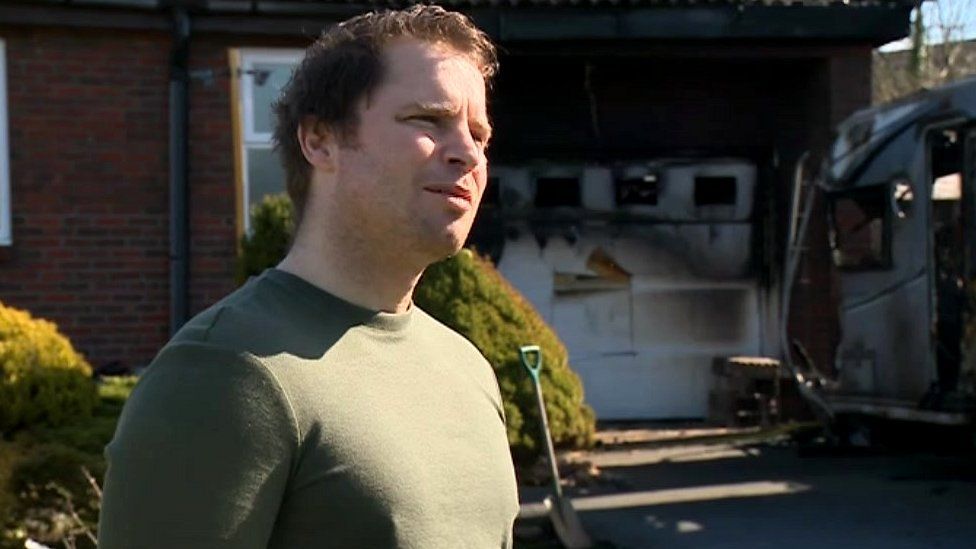 An ex-Royal Marine whose home was destroyed in a suspected arson attack is "lost for words" after more than £200,000 was raised to help his family.
Sean Ivey, from Wingate, County Durham, fled to safety with his wife and two children after a fire on Thursday, with a second blaze starting a day later.
Mr Ivey, who served in Afghanistan and Iraq, believed he was targeted after standing up to anti-social behaviour.
Two men have been arrested on suspicion of arson.
Mr Ivey, who works as a teacher at Hartlepool College of Further Education, told the BBC he felt "totally overwhelmed" if not "a bit embarrassed" by the generosity he has received.
Mr Ivey had spoken out in recent days about anti-social behaviour in his local area and had posted on social media that his parents had been robbed.
"I can't just let this go, because it has hit a nerve with people," he said.
"It's happening right across the country and not enough is being done."
The 38-year-old is married to Kate, 35, a nurse, and they have two young children.
The fundraising campaign took Mr Ivey, a former sergeant, by surprise.
"It's a few years since I saw Kev but that's the great thing about the Royal Marines and how veterans come together when any situation like this occurs."
The first blaze broke out during the early hours of Thursday, which saw a fire spread from the family car to a caravan on the drive way, and then to the roof of their home. The family was inside at the time but managed to escape.
A second fire, on Friday morning, destroyed the remainder of the bungalow.
Mr Ivey, who suffered a head injury while serving in the military, had forgotten to renew an insurance policy on his home. He said "his heart dropped" when he realised.
The father-of -two said he would continue to live in the village where he grew up and it was not in his nature "just to back down".
"It's completely unacceptable, nobody should be frightened in their own home," he said.
Durham Police are treating the fires as suspected arson. Two men, aged 22 and 25, were arrested and a 48-hour dispersal order was issued in the area.
Related Internet Links
The BBC is not responsible for the content of external sites.