Middlesbrough door-to-door Covid jabs and pop-up clinics discussed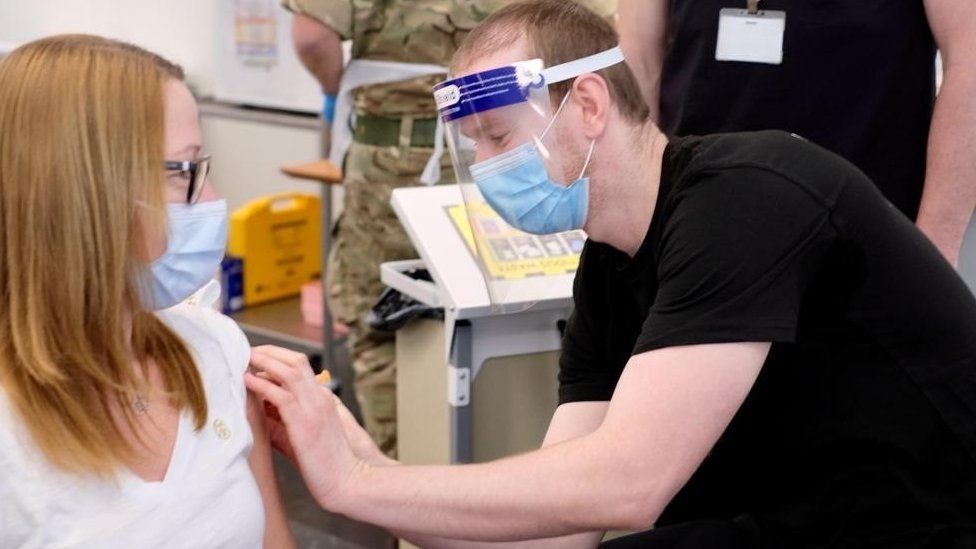 Door-to-door Covid jab visits and pop-up clinics are being considered to tackle lower vaccine uptake in parts of Middlesbrough.
South Tees' public health boss Mark Adams said the council was trying to obtain more detailed data on vaccines to map out where they were needed.
It followed similar moves in Oldham, Greater Manchester, and in Leicester where the idea was being considered.
In Middlesbrough, nearly a third of adults got their first jab by 18 March.
Speaking at a health scrutiny panel, Mr Adams said talks were continuing with GP groups, known as Primary Care Networks (PCNs), on where pop-up clinics could be established.
He also explained that teams were looking at groups to target based on the data they had. 
Panel chairman David Coupe, Conservative, suggested door-to-door visits may be needed, something which Mr Adams agreed with.
"There was a case of a GP and councillor in Oldham who went door-to-door and got talking to an 80-year-old lady of Pakistani origin," he said. 
"She showed him three letters she'd received, but she couldn't read because she didn't speak English.
"Then when he asked whether she'd take one if they could get vaccines at the end of the road tomorrow, she said she would. 
"He was able to speak to her in her language, so communication and understanding is really important."
"It's a lot easier to get a vaccine when you can hop in your car, or your work is flexible enough for you to get to a vaccine site and then go," he told the meeting.
"It's harder if you're looking after four kids and you can't drag them halfway across town to get one."
Councils are expected to play a larger role in the vaccine roll out in the weeks and months ahead. 
Related Internet Links
The BBC is not responsible for the content of external sites.