Middlesbrough chewing gum bins to combat 'unsightly menace'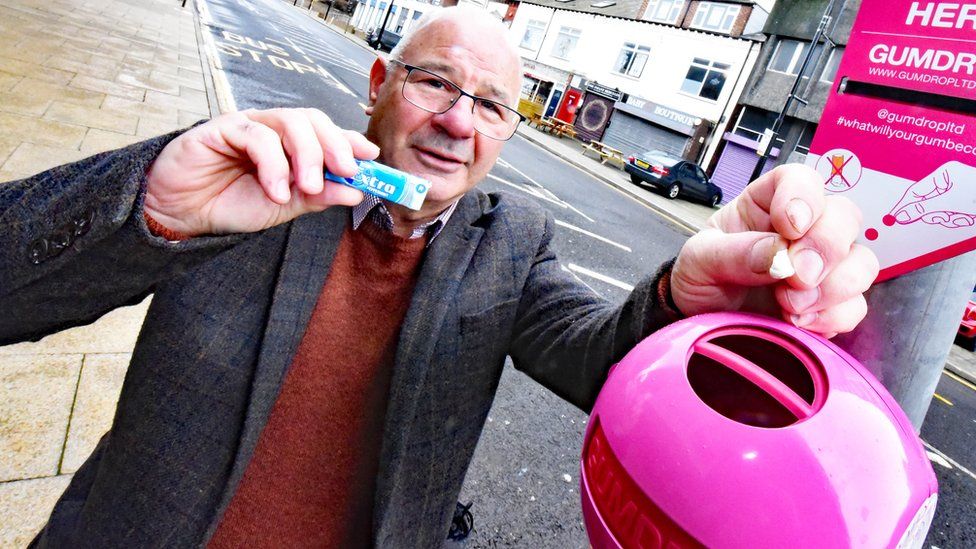 New bins have been installed in a town centre to help combat the "unsightly menace" of dropped chewing gum.
Middlesbrough Council said the 20 bright pink Gumdrop bins are part of a trial to "help clear up the streets".
The council said there are "thousands" of discarded pieces of chewed gum in the town's pedestrianised area, which cost a lot to clear up.
Gumdrop, the firm behind the bins, aims to recycle the gum for use in the rubber and plastics industry.
It can be fashioned into reusable items such as coffee mugs, mobile phone cases and drinking straws, the council said.
Dennis McCabe, Middlesbrough Council's executive member for environment, said: "Discarded gum is an anti-social eyesore that costs a small fortune to clean, and chucking it in the street is just as unacceptable as spitting or dropping a cigarette butt.
"These Gumdrop bins could change all that - not only are you avoiding the risk of an £80 fixed penalty notice, but your discarded gum will go on to do something useful rather, than getting stuck to roads, pavements and shoes."
Related Internet Links
The BBC is not responsible for the content of external sites.