Ruined County Durham buildings become 'fantastical follies'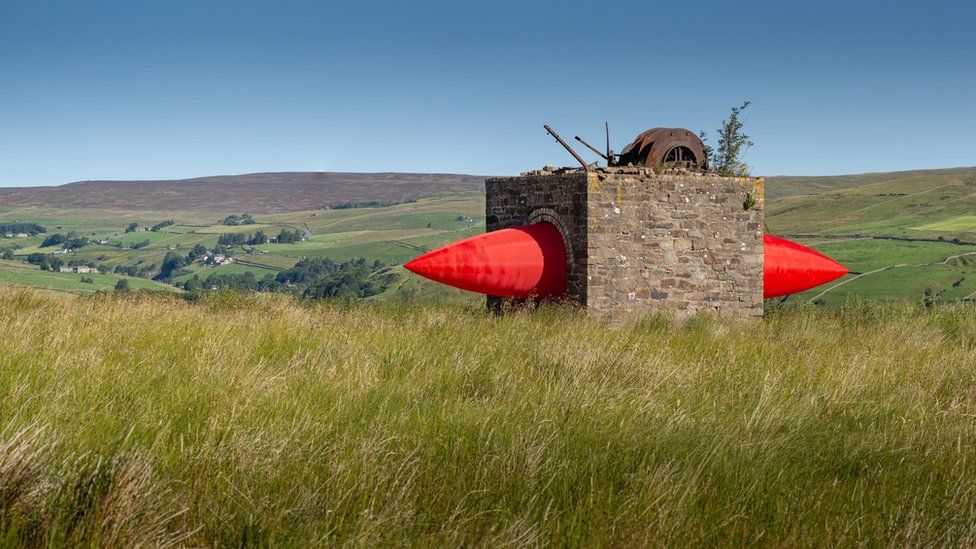 A landscape artist has turned ruined buildings into "fantastical follies".
Steve Messam's previous works include a paper bridge strong enough to hold a car, and suspending miles of yellow sails over a former lead mining site.
For his latest project, colourful fabric transforms abandoned buildings in remote locations around Weardale and Teesdale into temporary artworks.
Giant photographs of the installations are on display on giant billboards around Killhope lead mining museum.
The exhibition, entitled The Architect of Ruins, consists of massive billboards and runs until 12 September.
Mr Messam said: "The project transformed a number of ruined structures in the landscape temporarily into fantastical follies and visual landmarks.
"By highlighting these often-overlooked structures it aimed to reveal the layers of narrative that make up the story of the land, from mining and agriculture, to the transformative effect of the railways and the role of landowners."
The use of textiles adds form and colour that "imagines them in new ways", he said.
And as many of ruined buildings or structures are fragile, its use enables "significant forms to be created without the need for fixing into the structure of the building or damaging it in any way".
The project began during the first lockdown in 2020.
He said: "With all other work postponed and a desire to stay local, it became an ideal way to explore the local landscape and create new work."
Related Internet Links
The BBC is not responsible for the content of external sites.