Bilsdale transmitter: Helicopters fly in material to build temporary TV and radio mast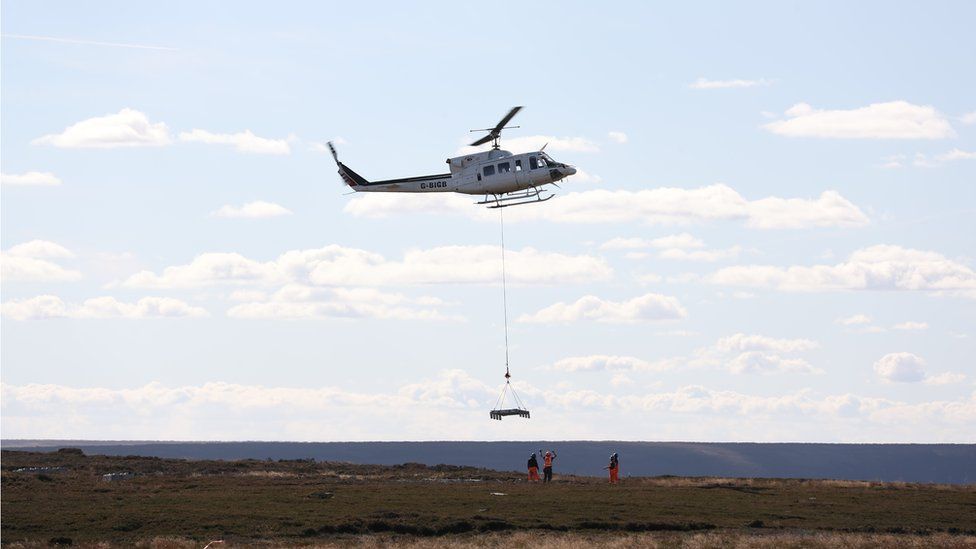 Helicopters have begun to fly material into the North York moors to build a temporary transmitter, which aims to restore TV and radio signals to homes.
More than a million people were left without a signal at the time.
Operator Arqiva said it estimated 70,000 to 80,000 households were still without coverage but 90% would be restored by 5 October.
However, around 10% of those without coverage, living in remote areas, are expected to remain without a signal with further plans to be announced in the coming weeks.
The new temporary Bilsdale mast is being built in a quarry 2,200ft (670m) above sea level and will only operate until winter.
Construction will involve more than 200 helicopter trips, dependant on the weather, to bring materials, including 200 concrete blocks to the site.
More than 100 people are working on the project, which has also seen new roads being built.
Once the temporary tower is in place, work will begin on a permanent replacement on the existing Bilsdale mast site.
The firm also said that cutting around 20 engineers from its workforce had "made no impact at all" to its recovery plans, as it continued to restore services.
"Today is a really important day in terms of the build programme, which is a big and complex programme with a lot of logistics," said Arqiva's chief of operations Adrian Twyning.
"We are carrying over 237 helicopter lifts - today was the first helicopter lift that we did in good weather."
While an investigation continues into the fire, arson and a lightning strike have been ruled out.
Further advice regarding services can be found here.
BBC television remains available on the iPlayer and radio stations can be listened to on BBC Sounds.
Related Internet Links
The BBC is not responsible for the content of external sites.