Bilsdale transmitter: Fire-damaged TV mast demolished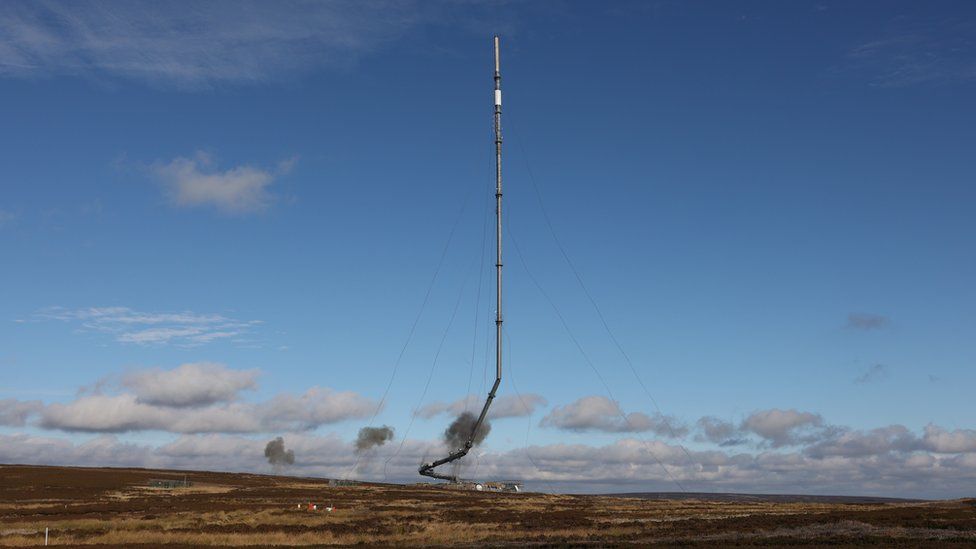 A huge TV and radio mast which was irreparably damaged by fire has been felled in a controlled demolition.
The Bilsdale transmitter caught fire on 10 August leaving more than 600,000 homes across Teesside, County Durham and North Yorkshire without a signal.
Arqiva, which operated the 1,030ft-high (314m) mast on the North York Moors, said it "acted quickly" to demolish it while weather conditions allowed.
A temporary replacement tower is due to be made operational next week.
Arqiva said the new transmitter, which will stand 260ft (80m) high, will restore TV services to more than 90% of affected households.
Sections of the demolished structure have been preserved and will be examined as the investigation to determine the cause of the blaze continues.
Adrian Twyning, the company's chief of operations, said: "Safety is our number one priority and once we had clearance to fell the mast, and identified a suitable weather window, we acted quickly.
"The site is on remote moorland, and there was around 2km of perimeter that we had to secure before the mast could be brought down."
Arqiva added it would ensure the affected moorland area was "restored fully" while also taking steps to minimise the impact of the clean-up.
Once the new tower goes live, it will serve 95% of homes with 70 Freeview channels, with 100% coverage only resumed when a new permanent mast is installed on the site of the Bilsdale transmitter.
Of the 23,000 homes still without signal until then, about half have cable, satellite or internet-based TV.
The remainder will be given FreeSat boxes and dishes or provided with internet TV.
Related Internet Links
The BBC is not responsible for the content of external sites.