LNER launches new Middlesbrough to London trains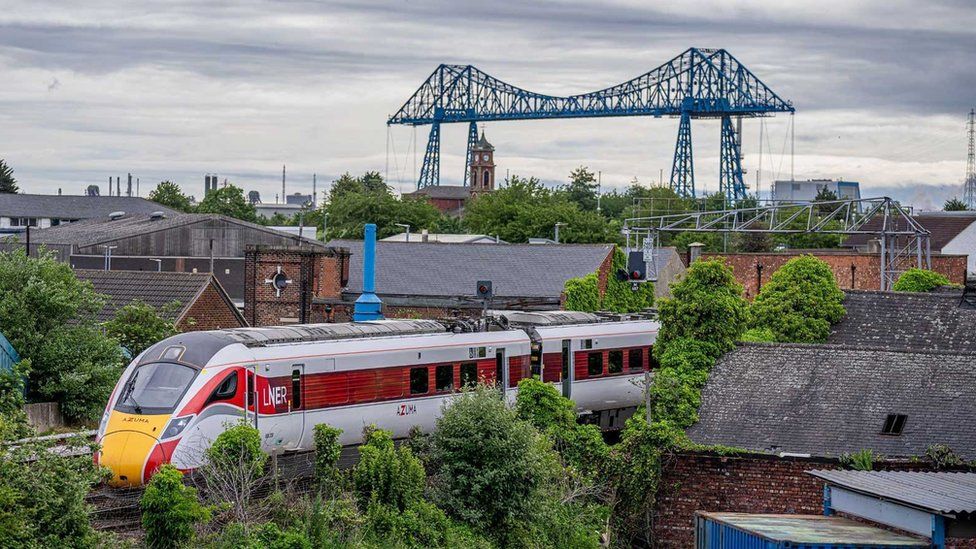 A new direct train service between Middlesbrough and London has started.
London North Eastern Railway (LNER) said the daily weekday Azuma service will be "the first wave" of trains between Teesside and London.
The first service left Middlesbrough at 07:08 GMT on Monday, and arrived at London King's Cross at about 10:20 GMT.
The Azuma trains will be powered by overhead electricity cables between London and Northallerton and then diesel engines to Middlesbrough.
The service, which also stops at Thornaby, will run every weekday with the northbound train leaving London at 15:25 to arrive in Middlesbrough at 18:18.
"More regular, direct services are planned by LNER in the future following the completion of further Middlesbrough station works which are currently being drawn up by Network Rail," an LNER spokeswoman said.
The first train pulled into Middlesbrough station ahead of its debut journey accompanied by staff holding sparklers and Queen's Don't Stop Me Now playing on the platform speakers.
It departed with 130 people onboard, LNER said.
One of those was Alex, a rail enthusiast from Sunderland who travelled to Middlesbrough especially to get the first train.
He told BBC Radio Tees he was "11 out of 10" on the excitement scale, adding: "I love travelling on trains.
"Having another train service down to London from the North East is a very good thing for the economy and region.
"I think it will make the world of difference."
David Horne, LNER managing director, said the new service would "open up new economic opportunities" for Middlesbrough and Teesside.
He said: "The new, direct services from December will see journey times of around three hours between London and Middlesbrough, offering more opportunities for business travel, tourists and international visitors wanting to travel to the Tees Valley."
Related Internet Links
The BBC is not responsible for the content of external sites.