'Greedy' squirrel freed from Hartlepool bird feeder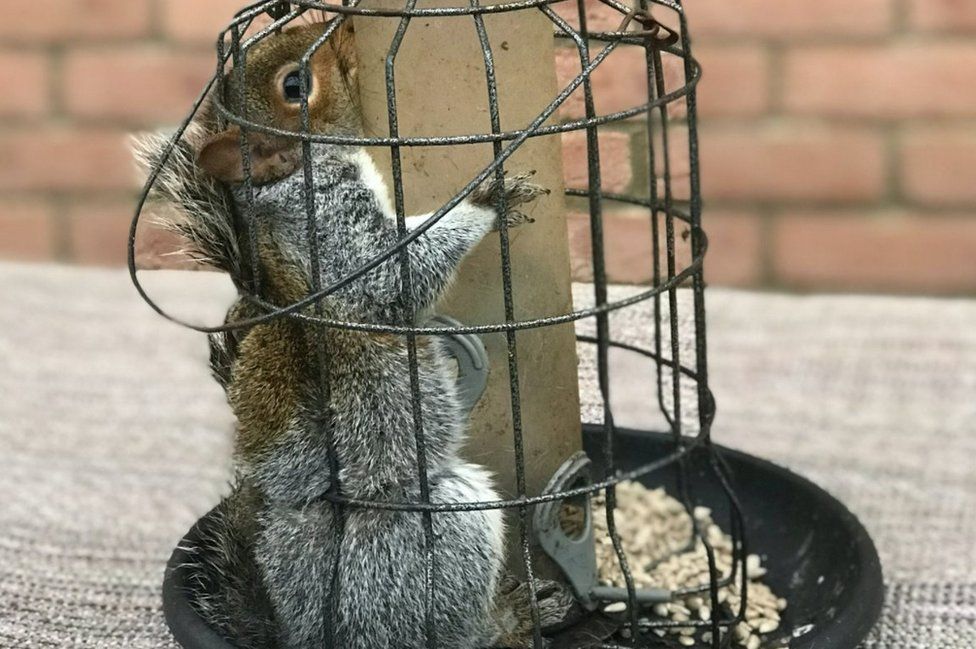 A "greedy" squirrel had to be released from a bird feeder after it gorged itself on nuts and became trapped.
The grey squirrel became "wedged" in the cage at a home on Blacklock Gardens in Hartlepool earlier this month.
The feeder was supposed to be squirrel-proof, RSPCA officer Ruth Thomas-Coxon said, but the bushy-tailed intruder had forced its way in.
She said the agile invader was "obviously frightened" but otherwise unhurt, and fled upon being freed.
Ms Thomas-Coxon used wire cutters to sever the feeder's bars and release the rodent.
She said: "This greedy boy must have gone in - even though this is a squirrel-proof feeder - and obviously he had such a good feed he got wedged and was unable to exit.
"Luckily his predicament was spotted or he could have endured prolonged suffering.
"He was obviously frightened but otherwise appeared unscathed from his ordeal - however he probably needs to lay off the nuts for a while."
The grey squirrel is considered an invasive alien species and cannot legally be released back into the wild if taken into care for rehabilitation or treatment.
However, they be legally released in situ, as was the case in Hartlepool, the RSPCA said.
The RSPCA is urging people to monitor their bird feeders for similar incidents.
Related Internet Links
The BBC is not responsible for the content of external sites.