Tyne pedestrian tunnel funding approved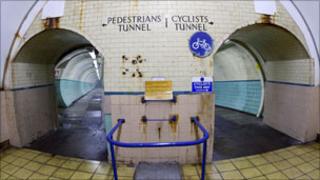 Funding for a £6m refurbishment of the Tyne Pedestrian and Cyclist Tunnels has been approved.
The wooden escalators will be replaced and a new lift will be fitted to improve access to the grade II listed tunnels between Howdon and Jarrow.
The Tyne and Wear Transport Authority approved funding for the refurbishment, paid through toll charges in the vehicle tunnel, on Thursday.
Plans will go before North Tyneside and South Tyneside councils for approval.
Councillor David Wood, chairman of the transport authority, said: "It is pleasing to approve this investment in these times of financial constraint.
Original escalators
"The refurbishment will ultimately be paid for by tolls raised at the vehicle tunnel so there is no cost to the council tax payer."
The wooden escalators currently in the 60-year-old tunnel are original and thought to be the longest of their type in the world.
A spokesperson for the transport authority said they had become expensive to maintain because they had exceeded their design life.
Two of the original escalators will remain and their machinery will be open to public view.
Tenders for the refurbishment are expected to go out later this year.